European aftermarket still growing despite a small drop in 2014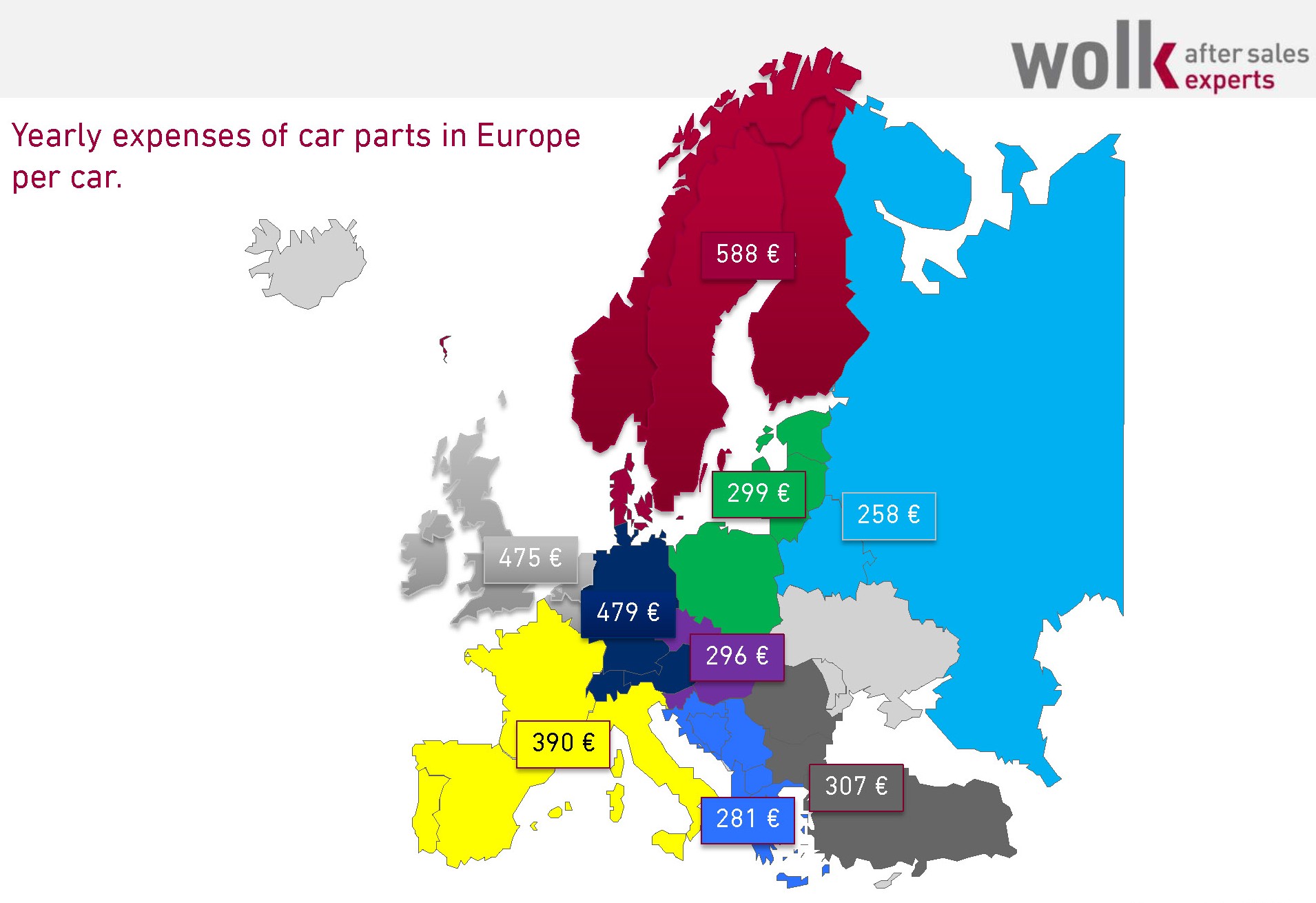 Germany accounts for almost 18% of European aftermarket
The total car after sales market in Europe across all purchased components – what is otherwise known as the aftermarket – generated sales of about 119 billion euros in 2013 (based on retail prices excluding VAT and refer to materials only and not salary).
wolk after sales expert's findings are published in the latest edition of its European aftermarket structure analysis for 34 European countries. It is the third time Wolk has produced this. Previous editions came out in 2009 and 2012. The surveyed components included were wear parts, body parts, engines, transmissions, electrical parts, automotive glass, chemicals, oil, tyres and paint.
Perhaps due to its diversity of both product and geography, the European aftermarket is far from being homogeneous. Wolk's study pointed out nine different clusters of countries which have large differences in their sales and turnover behaviour. For example, a motorist in Scandinavia pays about 588 euros per year for new car components. This represents an increase of nearly 3 per cent compared with 2009. Motorists in Russia and Belarus however spend only 258 euros for the spare parts of their cars.
At the same time, major structural changes are taking place in the various European aftermarkets. In this context the acquisitions in the car parts wholesale sector by Sator/LKQ in the Benelux countries, the mergers and acquisitions in the German market (e.g. WM bought Trost and Stahlgruber acquired majority interest in PV Automotive) or the growing importance of e-commerce in the aftermarket are all worth mentioning. And that's before we talk about the Unipart Automotive collapse in the UK and the rise of its competitors since then.
In Wolk's words "development and changes which were out of imagination 10 years ago become reality". Helmut Wolk, director of wolk after sales experts describes the situation in the European aftermarket as follows: "Often you cannot avoid the impression that the market participants are exposed to a chaotic market scenario that has no fixed boundaries where concepts, priorities and schedules shift quickly."
However, despite the obvious economic pressures which have broadly persisted since 2008/09 the European aftermarket remains durable. With an average annual growth rate by 1.9 per cent in 2013, wolk's data shows that the car aftermarket is once again proving to be a stable economic factor in Europe.