Yokohama's 2015 motorsport plans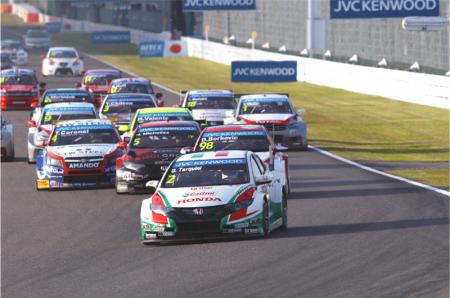 Yokohama Rubber has outlined its motorsport plans for 2015, and has given a brief summary of the main events:
FIA World Touring Car Championship (WTCC) – Yokohama has been the FIA WTCC's official tyre supplier since 2006, and has supplied its Advan racing tyres to WTCC since 2010. Changes to regulations for participating cars were introduced last year; these allow for the use of more powerful engines and larger aerodynamic parts, leading to faster overall speeds. As a result, the competing cars now use 18-inch tyres with a larger overall width, outer diameter, and inner diameter. This year's WTCC series includes 12 rounds and 24 races, with the first race to be held in Argentina on 6-8 March.
Red Bull Global Rallycross – the company will supply control tyres for a second year in 2015, with races exclusively running on 17-inch Advan racing tyres. GRC races feature production model cars with revised specifications that produce 600 horsepower. This year's GRC opens in Tampa, Florida, on 31 May and will include 12 races, mostly in the United States.
GT & Touring Car Races
Super GT Series – Once again Yokohama will support teams in Japan's most popular motorsport event. This year, the tyre maker is supporting two GT500 class teams: Kondo Racing's Nissan GTR and the Lexus Team WedsSport Bandoh's Lexus RC-F. Last year, a car running on Advan racing tyres recaptured the drivers' championship in the GT300 class, where Japanese GT cars compete fiercely with supercars from overseas.
VLN Endurance Series at Nürburgring / 24 Hours of Nürburgring – Yokohama Rubber will supply tyres to many of the racing teams competing in this year's VLN Endurance Series and the annual 24-hour race held at Germany's Nürburgring.
Super Taikyu Series – Advan racing tyres will once again be the control tyre for this race, which is held in Japan. The races draw a wide variety of competitors, from FIA GT3 ST-X class cars to under-1500cc ST-5 class cars, increasing the interest in this Japan-based series of endurance races.
GAZOO Racing 86 / BRZ Race – This race is for street-spec Toyota 86 (86 Racing) and Subaru BRZ (RA Racing). The vehicles all are therefore roughly comparable in regard to powertrain and other basic functions. But the entrants are free to choose tyres from any manufacturer. All ten races held in 2014 were won by cars running on Yokohama tyres.
In addition to the races noted above, Yokohama will provide its Advan racing tyres to participants in a number of other GT and touring car races held around the world, including Japan's Inter Proto Series and Super Car Series and, for the first time, the SEAT Leon Eurocup.
Rally Series
Asia-Pacific Rally Championship (APRC) – Yokohama Rubber will again supply tyres to many teams participating in the APRC.
Japanese Rally Championship – In 2014, cars running on Yokohama tyres took the championship in five of this series' six classes. Yokohama aims for another year of multiple championships from supported teams, including the Advan PIAA Lancer (Advan PIAA Rally Team) led by Fumio Nutahara, which last year reclaimed the crown in the series top-level JN6 class for the first time in five years.
In addition to these championships, Yokohama will again support top drivers seeking to win the championship of other rally series around the world, including the Canadian Rally Championship.
Formula Races
Macao Grand Prix – The Macau Grand Prix celebrates its 62nd year in 2015 and Yokohama tyres will again be at the forefront, serving as the control tyre for the event's headline Formula 3 race for a 33rd straight year. Many cars in other race categories will also compete on Yokohama tyres.
Japanese Formula 3 Championship –Top drivers from Japan and around the world will once again vie for the Japan F3 championship with Advan racing tyres as the control tyre.
Yokohama will also continue to provide tyres for junior formula racing series, such as Japan's Super FJ.
Autocross
Yokohama will support drivers seeking the championship in all classes of this competition by supplying the Advan A050 and Advan Neova AD08R. The company also looks forward to supporting a number of championship cars with its line-up of Advan rally tyres, including the Advan A031 for use on soft road surfaces, Advan A036 for harder surfaces and the latest addition to the series, the Advan A053 standard gravel tyre.
Other Races
Off-road races – Once again, Yokohama will have a strong presence at off-road races around the world, beginning with the Baja 1000 and other races in North America's Sscore World Desert Championship series. Geolandar SUV tyres are popular with many teams participating in these off-road races.
Kart races – Karts competing in the KF category of the All Japan Karting Championship will again feature Yokohama tyres, while the brand will serve as control tyre supplier for the FP-Junior category of the Japanese Junior Karting Championship and the Asian Karting Open Championship. Yokohama Rubber will also continue supplying its tyres to circuit races in the Philippines, Indonesia and elsewhere.