Pirelli triumphs in sport auto tyre test; Bridgestone and Kumho trail the field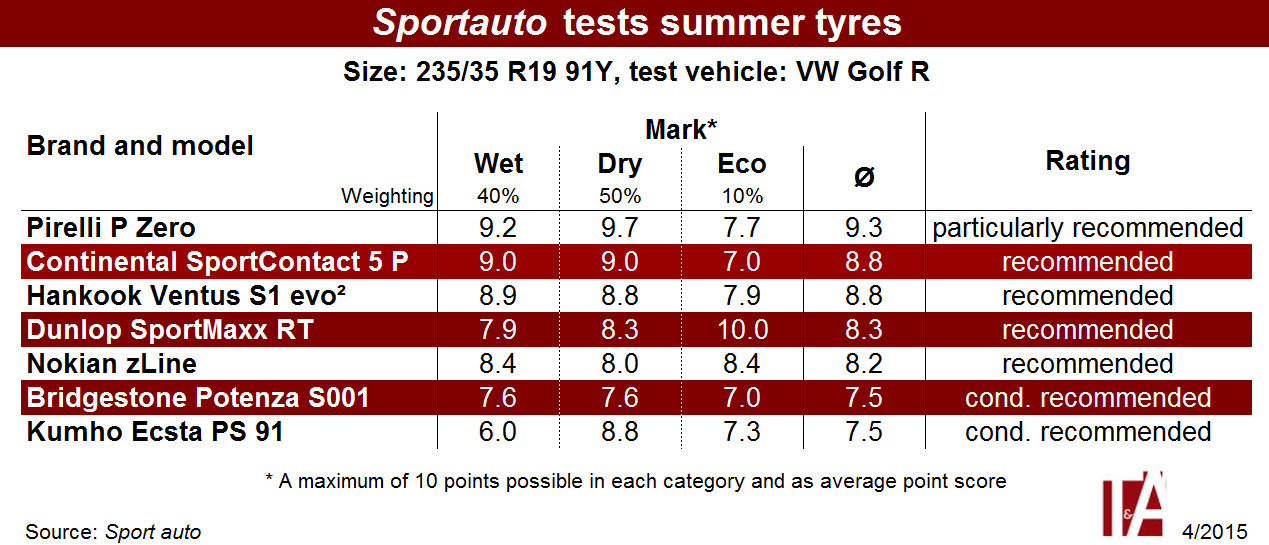 Although often derided for a lack of ride comfort, many praise low-profile rubber for its influence on steering response and cornering precision. Others just like the way these tyres look. This month, the various characteristics of seven low profile tyres have been put under the 'sport auto' magnifying glass. The German magazine has evaluated size 235/35 R19 91Y rubber for the usual wet and dry performance criteria along with 'eco' factors such as rolling resistance and noise. The tyres were mounted on a VW Golf R for testing.
Pirelli lived up to its performance reputation and snatched first place in the test with a score of 9.3 points from a possible ten, along with the only 'particularly recommended' rating. Following the Italian marque as joint second place finishers with 8.8 points were the 'recommended' Continental SportContact 5 P and Hankook Ventus S1 Evo², while the 8.3 points gained by the Dunlop SportMaxx RT and the Nokian zLine's 8.2 points also resulted in a 'recommended' rating. The bottom two rungs on the ladder were occupied by the Bridgestone Potenza S001 and Kumho Ecsta PS91; both scored 7.5 points and were given a "conditionally recommended" rating.
Detailed results from this test and other tyre test reports and results can be found in the Tyrepress.com tyre test database.