Giti Tire reveals CV Show 2015 stand design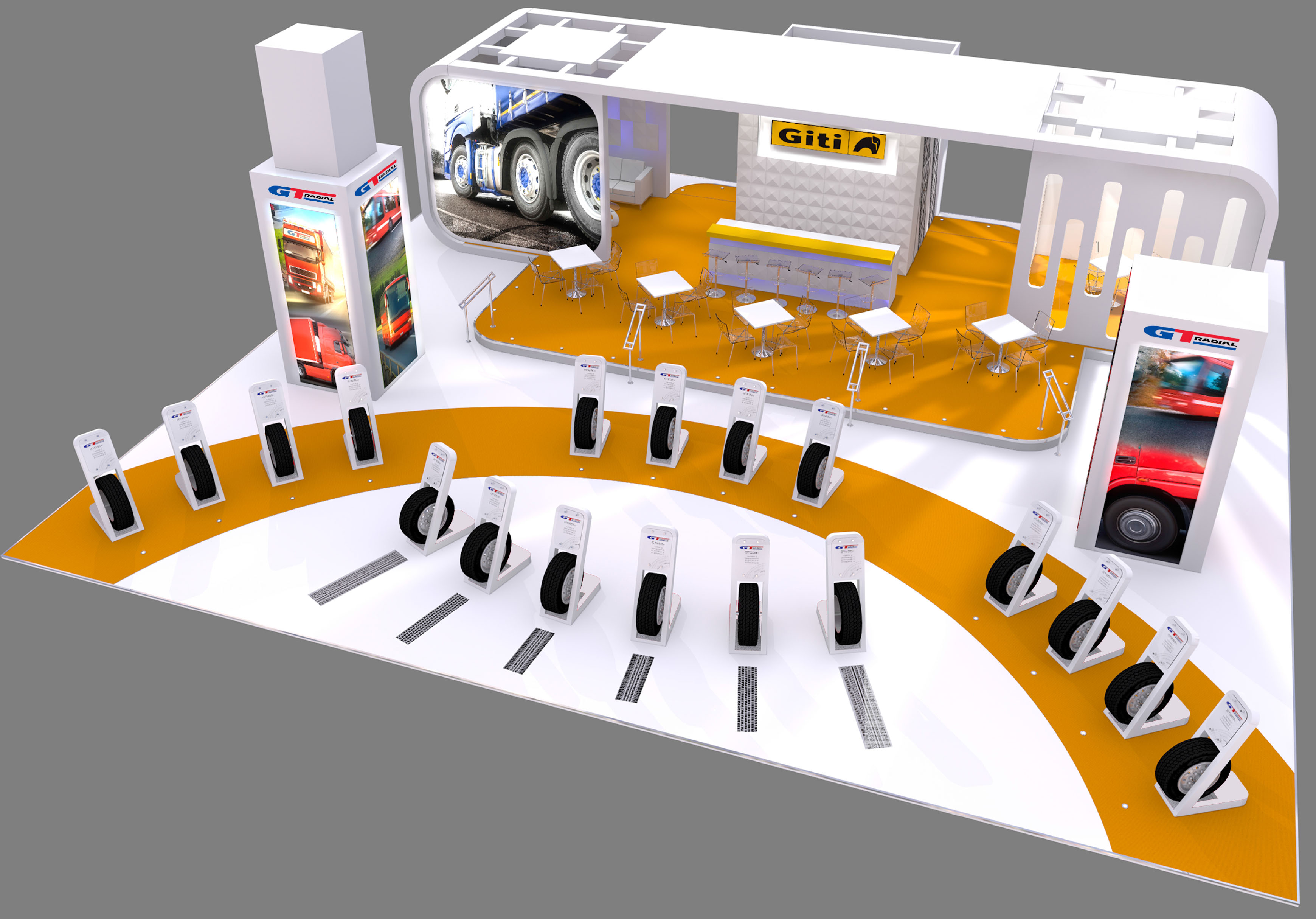 Giti Tire has unveiled its stand design for The CV Show 2015. The stand, situated at 4G40, will provide a platform for the launch of the new GT Radial GDR638 next generation drive axle tyre. An interesting feature of the stand (pictured) will be the presence of the manufacturer's logo and corporate colours. In previous years Giti has made its flagship GT Radial brand the focus of its CV Show exhibit. Now the manufacturer plans to raise its corporate profile worldwide in support of global infrastructure projects, such as the new $560m manufacturing and distribution plant in Chester County, South Carolina.
Richard Lyons, managing director – Europe at Giti Tire, said: "We are one of the top 10 largest tyre companies in the world by volume and revenue, and with our rapid global development it is imperative we speak from a single identity in support of our core brands in each and every market.
"From here on in we will see the Giti Tire name used at all major events, it will become as synonymous and respected in Europe as it is in other areas. We are of course delighted that this initial step in our new communications philosophy will be unveiled in the UK at the CV Show."
The manufacturer will also use the CV Show to launch the GT Radial GDR638 high-performance, next generation drive axle tyre, which is specifically designed for medium-sized trucks and buses.
The new pattern features four longitudinal grooves to provide good traction and braking with improved vehicle stability and driver comfort, while a new casing and footprint design delivers regular wear with high-mileage potential.
The GDR638 is available initially in 245/70R17.5 and 235/75R17.5, with seven further 17.5" and 19.5" sizes due before the end of the year.
With 22 GT Radial patterns on show from a range consisting of 28, the stand will be split into road, combi, urban, mixed and winter to allow for a far more defined customer experience.
Other products on show include the GSR225 Combi Road steer axle, which is Euro VI compliant on all steer applications, the GAU861 all-position urban city-bus, the GAM831 non-directional, all-position mixed service, GSW226 winter-marked high-traction steer axle plus the GAR820 regional all-position tyres.