Fan loyalty the focus of Hankook Tire's latest football campaign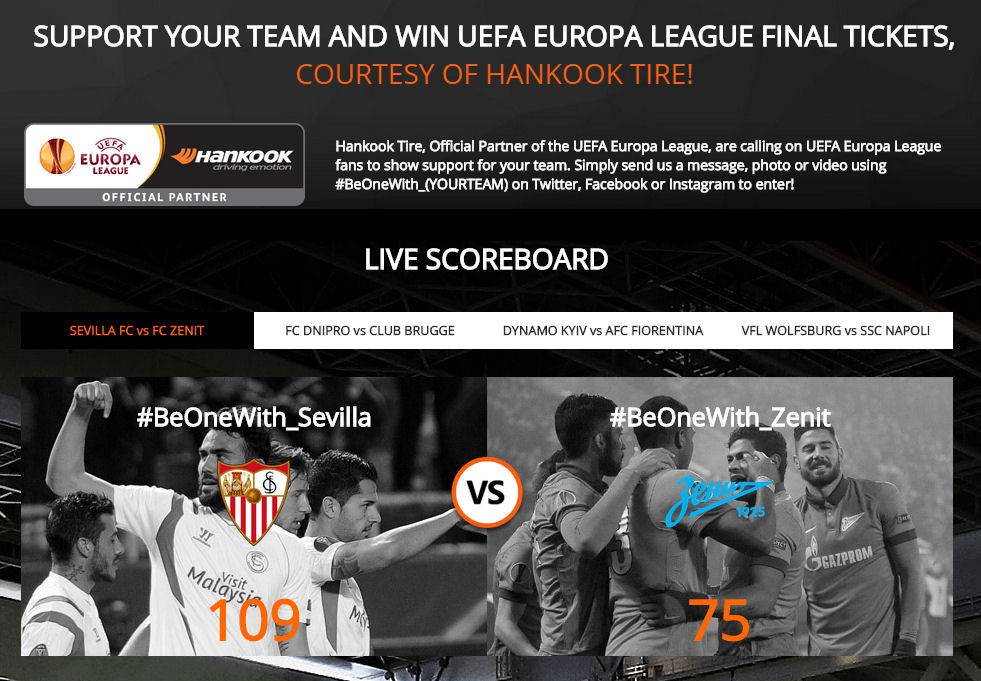 All English clubs may have already been knocked out, but eight teams remain in with a chance to win this year's Europa League final, which will take place in Warsaw, Poland on 27 May. If your favourite team is still in the running, your support could pay off. In association with the UEFA Europa League, Hankook Tire has launched the 'Hankook Digital Fan Match' campaign and invites fans to show their support for the quarter finalists.
In the two months leading up to the 2014/15 season final, fans can spur their favourite clubs on by leaving messages at the world's largest football portal, Goal.com, as well as through social media channels such as Facebook and Instagram. The www.goal.com/beonewithyourteam website will count up and compare the messages to determine which team has the most loyal and supportive fans. This loyalty will be rewarded with prizes, including airfares, accommodation and tickets to the final in Warsaw.
"As an official partner of the UEFA Europa League, Hankook Tire is proud to take part in yet another season's excitement and share our brand experience with the European football fans," commented Gangseung 'Tony' Lee, Hankook Tire Europe's vice-president of marketing and sales. "With this campaign taking place in Europe, we believe our on-going sports marketing efforts such as motorsports and football will be a springboard for our brand to reach out to European fans and solidify the brand value in the region."
Hankook Tire has been an official UEFA Europe League sponsor since 2012 and says it has been able to greatly increase brand awareness in value through this partnership