Michelin identifies young riders as a key UK motorcycle growth area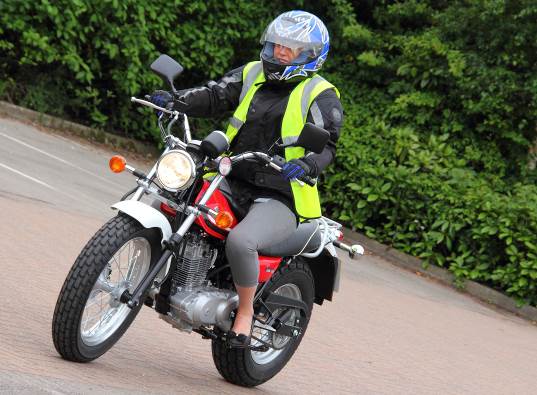 Michelin has suggested that 2015 could be the "year of two wheels for young drivers" after an increase in compulsory basic training applications from the under-25s and a sales uplift from bike retailers and tyre dealerships. According to the tyre manufacturer's Stoke-based driver safety partner – Bryans Road Safety Centre with whom Michelin runs a range of on-road and off-road driver and motorcycle rider training courses – 2014 saw double-digit growth for courses from each of the key 16, 17-18 and 19-23 age groups. The increase seems particularly relevant to the latter group, which registered a 25 per cent increase. Michelin recently told Tyrepress that demand for its recent Pilot Road 4 tyre was "exceeding expectations".
Kevin Bryan from Bryans Road Safety Centre comments on the upward trend: "Whether their intentions are to gain a full licence or just to get legally out on the road, the CBT course is the foundation for young riders starting their motorcycling careers.
"In 2014 we welcomed more young riders than ever before for CBT courses and especially female motorcyclists. That included riders needing to complete their repeat CBTs after two or four years; those wanting taster sessions, plus A1 and A2 category tests – and our 2015 order book is already looking busy.
"Fuel and insurance costs clearly still shape the case when it comes to making two wheels more attractive than four for young drivers, but it is also a lifestyle trend – with public transport costs rising faster than inflation along with significant increases in college and workplace parking costs, scooters and mopeds deliver a tempting taste of independence.
"Historically such popularity trends have sparked safety concerns, but certainly our experience is highlighting a generation that is much more road safety mature. Many have grown up with a heightened awareness in cycling safety as a result of us becoming more of a cycling nation so they understand the dangers that the road presents."
The trend is also being felt by motorcycle retailers and tyre dealerships across the UK, as James Dimmock, motorcycle marketing manager for Michelin in the UK and Ireland, explains.
"We're certainly getting the impression from the industry that there has been an increase in the number of young people entering the market. They are not just browsing in the showrooms, they are also buying – and tyre dealers are seeing the same sort of thing in the replacement market."
Figures released this month show an increase in new motorcycle registrations for the eleventh consecutive month. Nearly one third of all new powered two-wheelers sold this year were scooters.
There are clear reasons for the UK motorcycle industry to be optimistic. Steve Kenward, CEO of the Motorcycle Industry Association explains: "The more motorcycles on UK roads, the better. They save time and money, take up less space on the road and to park and small motorcycles meet ultra-low emission requirements. The MCIA is working with police and government to make sure roads get safer for motorcyclists, who can make a valuable contribution to keeping traffic moving on UK roads."