Michelin donates to €300,000 French agronomy programme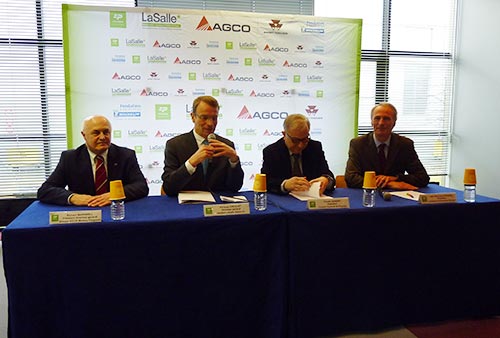 Under an agreement signed at the SIMA International Agri Business Show in Paris yesterday, Michelin will donate €300,000 to the La Salle Beauvais Polytechnic Institute to support its creation of a farming machinery and new agricultural technology programme. The funds will be donated over a three-year period through the Michelin Corporate Foundation. Jean-Dominque Senard, who in addition to his functions as Michelin chief executive officer and managing general partner is president of the Michelin Corporate Foundation, signed the Memorandum of Understanding together with Claude Gewerc, president of the Picardy Regional Council, Philippe Choquet, general director of the LaSalle Polytechnic Institute, and Richard Markwell, president of AGCO Massey Ferguson.
The LaSalle de Beauvais Polytechnic Institute trains 350 agronomy engineers each year. The farming machinery programme is a new specialisation in the fourth and fifth years of study. The first class will start the programme in October 2016.
"Partnership with the La Salle Polytechnic Institute is part of the support for innovation that Michelin Corporate Foundation wants to promote through its sponsorship," commented Senard. "I am delighted that our foundation is able to support educational projects in the field of agriculture and thus contribute to training future agricultural engineers, who will apply their expertise to solving the food challenges of our planet."