Kumho sponsoring two further German football clubs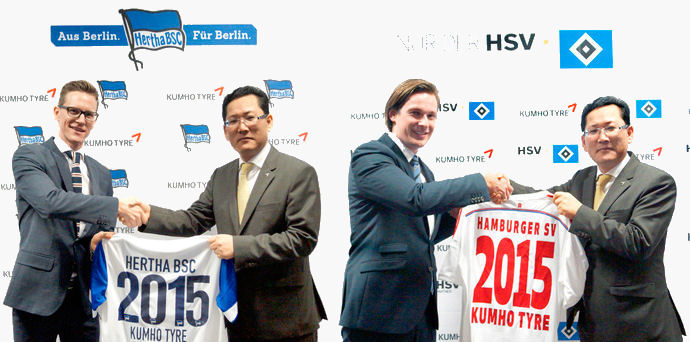 In addition to its newly-signed deal with Champions League and German Bundesliga team FC Schalke 04, Kumho Tyre has come on board as tyre partner for two further German clubs. Hamburger SV and Hertha BSC will be sponsored by the tyre maker until the end of the 2016/17 season.
The Hamburg-based club looks forward, in the words of board member Joachim Hilke, a "successful partnership." Rouven Kasper, senior director of Sportfive Team HSV, the club's marketer that negotiated the contract, added: "We are pleased to have won with Kumho Tyres a globally successful brand; this underlines the international significance of the HSV brand."
Yong-Sung Kim, managing director of Kumho Tire Europe GmbH, commented that "after recently finalising a long-term partnership with FC Schalke 04, we are now pleased to have found in the Hamburger SV a long-established club that we can cooperate with in the coming years. HSV possesses one of the largest fan bases in Germany and we hope to clearly increase our brand awareness with the help of this partnership."
The managing director uttered similar words upon Kumho Tyre's entry into an agreement with Hertha BSC a short time later. He said he hoped awareness of the Kumho brand would particularly increase in Berlin, a city he says is important to the tyre maker. Ingo Schiller, financial and marketing managing director for the Berlin-based club, added: "This partnership shows Hertha BSC's status in Asia, and that it will also be perceived as an effective marketing platform there."
Both deals give Kumho a presence on video screens and upon the LED perimeter advertising boards at the clubs' home stadiums. The tyre maker will also feature in various team publications.