Dropping an OEM 'nom de plume' in favour of Mitas Premium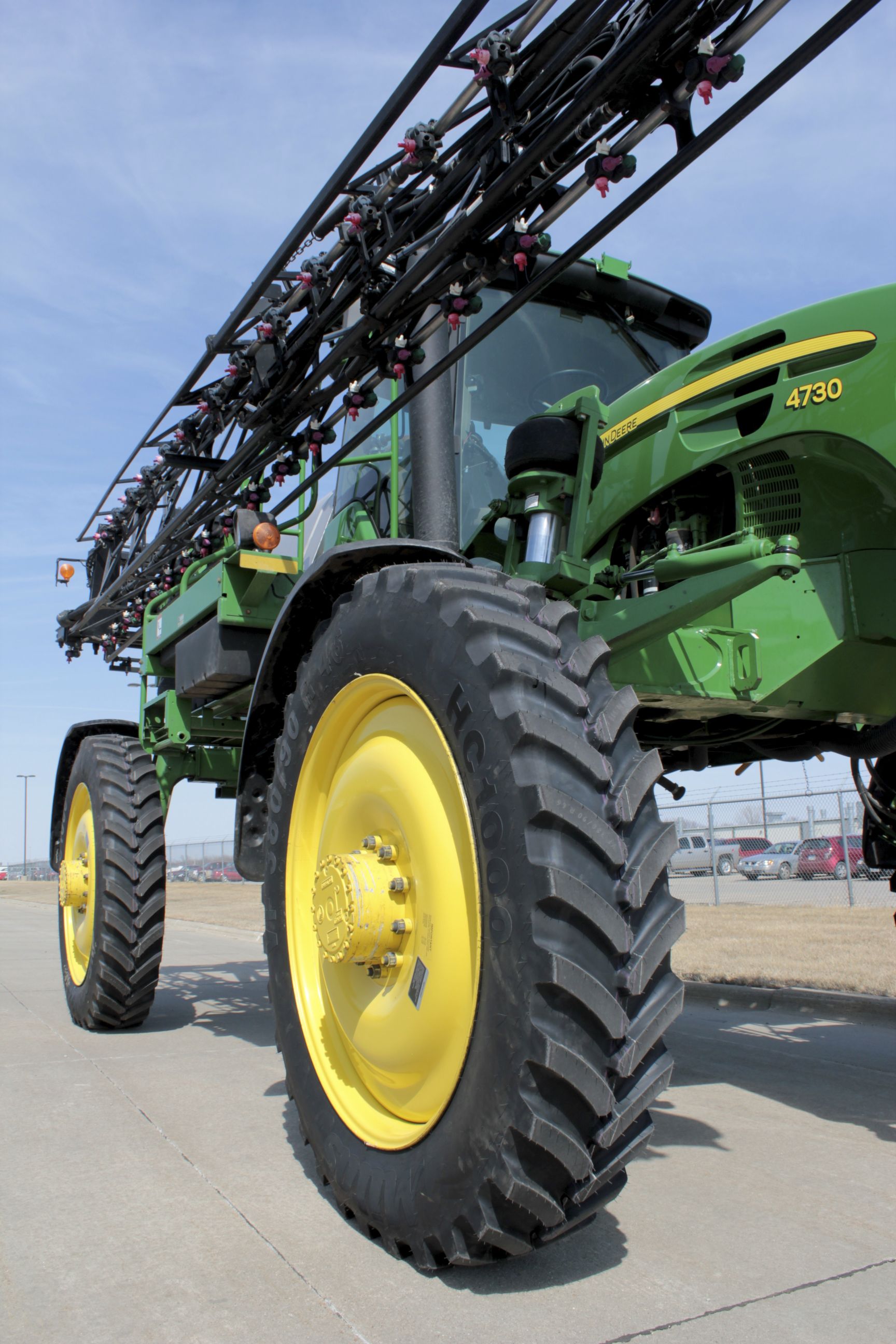 We've mentioned in the past that while most farmers and agricultural machinery operators know the tyres Mitas produces, the Mitas name itself often flies under the radar. But the Czech Republic-based tyre maker is doing everything in its power to change this, and as a result the industry has heard the Mitas name a lot of late. Not only has the company released details of its PneuTrac technology (see the May 2014 issue of Tyres & Accessories for more on this) and trials using alternative sources of rubber, it has launched a programme to ensure the agricultural segment realises that the Continental agricultural tyres manufactured and sold over the last decade are in fact Mitas products, and in future will be known as such.
This rebranding programme is, admittedly, only new within Europe's agricultural market. It began in other parts of the world a few years back and, according to Andrew Mabin, the company always intended for Mitas to be its main agricultural tyre brand. "When we acquired Continental's AGRO business unit, there was no clear plan for switching brands on the table, but the vision was clear," the Mitas a.s. marketing and sales director told Tyres & Accessories. "As the Mitas brand grew stronger, we decided to ignite the brand switch process. We started in the US and Russia, where Mitas tyres have been exclusively available since 2012. Now we are launching the same process in Europe, and the motivation behind that is clear. We are building equity in a single brand, namely Mitas, which is our own and not licensed."
Wind the clock back a little more than ten years and we find ourselves at a time when the top brass at Continental were faced with a difficult decision – either invest a tidy sum to modernise the company's agricultural tyre production facilities or divest its Agro business unit and licence use of the Continental brand name. Despite some dissent, the second option was selected and on 1 October 2004 Mitas acquired the rights to use the Continental, Semperit, Barum and Euzkadi trademarks for agricultural tyres. "In this way, the ČGS group has significantly strengthened its long-term strategy of aiming towards the development, manufacture and sale of the out-of-motorway, especially, agricultural tyres," commented the company at the time. The licencing agreement initially covered a ten-year period, and in 2013 Mitas exercised its option to continue producing Continental agricultural tyres until the end of 2019. Mabin says that the company will continue to produce Continental branded tyres for the replacement market until the end of this period.
But in the original equipment segment, the progamme to phase out the Continental name is already well advanced. At its press conference at the EIMA agricultural show on 13 November 2014, Mitas announced plans to replace the Continental brand name on all original equipment agricultural tyres in Europe. Tyres supplied to OEM customers now bear the words 'Mitas Premium' on the sidewall; this name has been given to the agricultural radials Mitas designs for powerful machinery.
Deliveries of Mitas Premium tyres were negotiated with key agricultural machinery manufacturers such as AGCO, Argo, Claas, CNHi, John Deere and Same Deutz-Fahr throughout 2014. Newly-manufactured Claas harvesters and tractors have been equipped with tyres from the product line since October 2014, with other OEMs following shortly afterwards. In a statement announcing the changeover, Mitas CEO Jaroslav Čechura said: "Mitas' strategy is to build equity in a single brand, namely Mitas. From January 2015, all tractors and harvesters produced by major OEMs that were previously equipped with Continental tyres will be fitted with Mitas Premium tyres. Mitas Premium tyres bear the same premium quality and technical characteristics as Continental tyres. Our OEM partners recognise this, and they accepted delivery and fitment of Mitas Premium." Andrew Mabin further notes that, prior to the EIMA show announcement, Mitas received several endorsements for Mitas Premium from its OEM partners, "which is a good sign of excellent relations."
Mitas Premium isn't being promoted as a separate brand within the Mitas portfolio, and while the initial focus has been on supplying OEM customers, Mabin confirms that several Mitas Premium tread patterns are already available to aftermarket customers. These are sold in the aftermarket alongside other Mitas and Continental tread patterns. Mitas is yet to announce a date for rolling out the entire Mitas Premium line-up in the aftermarket.
Changing from one brand name to another may seem a challenge, particularly when the name scheduled for retirement is as well-known as Continental's, however Mitas is confident that the company's more than 80 years of tyre manufacturing – the firm traces its ancestry back to the 1933 establishment of Mitas Praha, a joint-venture in which Michelin was a 75 per cent shareholder – and the awards it has received for service, quality and innovation in the last ten years will hold it in good stead. Andrew Mabin stresses that Mitas is convinced its experience with manufacturing quality and reliable tyres will enable retention of its market share regardless of what Continental's management decides for post-2019. "Any company that would like to connect with the Continental brand name in the future has to show excellent skills of manufacturing tyres to be successful, and you do not get those just by buying the name. We have succeeded thanks to our more than 80 years of experience in manufacturing tyres, our flexibility and know-how." And to ensure everyone is aware of this, he adds that Mitas will continue to intensively market the brand and support it at trade shows and fairs.
The recent focus on the Mitas brand, incidentally, does not mean that Cultor has lost any significance for the tyre maker. "The Cultor brand still plays, and will continue to play, an important role in our brand portfolio," says Mabin. "We are convinced that having a premium and a budget brand in our portfolio is a good combination. We are now working on the precise positioning of the Cultor brand, but under this brand we will keep producing high-quality and reliable tyres whose price tag will suit the needs of savvy customers."
Low-pressure tyres the 'future'
The Mitas Premium range reflects the direction Mitas sees agricultural tyre development heading, and Andrew Mabin opines that extra-large radials will lead the agricultural tyre market in five to ten years: "We can already see it in our production today. At Mitas, we focus on the production of technologically advanced radial tyres for high-horsepower machines," he says.
"We think the future belongs to so-called low-pressure tyres, which offer the solution to the issue of soil compaction. Such low-pressure tyres include, for example, our Very High Flexion line: VF HC 1000 for sprayers, VF HC 2000 for powerful tractors and VF HC 3000 for harvesters in the pipeline," Mabin continues. "Our Super Flexion Tyres, and especially one of the world's largest agricultural tyres, Mitas 1250/50R32 SFT, are the answer for ever-growing agricultural machinery. From a manufacturing point of view, we use a special type of cord material, steel breakers, a new type of bead wire and new compounds. This technological know-how keeps us at the forefront of agriculture tyre manufacturers."
Very High Flexion (VF) tyres are a key part of the Mitas Premium line-up. "With the trend and development towards additional weight carrying capacity due to the increase in the storage tanks for sprayers and combines or the need to achieve very low inflation for HHP tractor application accommodating T4, the development of VF will be paramount to success," comments the marketing and sales director. "This development is primarily being driven by original equipment manufacturers. Current trends suggest VF will represent a significant proportion of our future sales."
Mitas VF tyres are produced in Mitas' Otrokovice plant in the Czech Republic and in Charles City, Iowa (USA). For high-horsepower tractors, Mitas has released the VF 380/95R38 HC 2000 and VF 480/95R50 HC 2000. For sprayer applications Mitas unveiled the VF 380/90R46 HC 1000. "In early January 2015, Mitas will release new sizes of VF tyres for high-horsepower machines," says Mabin. "Mitas will introduce additional sizes of HC 2000, namely VF 600/70R30 and VF 710/70R42." He adds that several other HC 2000 sizes are also in the pipeline, however it is too early to divulge further details. The tyre maker's VF range for harvesters will be known as the VF HC 3000; this product line will be introduced early in 2015.
Generally speaking, Mitas is oriented towards the production of radial agricultural tyres for powerful tractors and harvesters. "Currently, the most important tractor tyre lines are AC85, AC70 T, HC70, AC65 and Super Flexion Tyres (SFT)," comments the marketing and sales manager. "Mitas AC85 is our leader regarding fitment frequency on tractors, but the SFT tyre line for high-horsepower tractors is growing in importance, and it receives our full development support. The trend of manufacturing larger and more powerful machines requires the production of technologically advanced tyres such as Super Flexion Tyres. They are able to transfer power to the ground and equally distribute the machinery's weight. Super Flexion Tyres are a key product of Mitas."
PneuTrac and dandelions
Since news of Mitas' PneuTrac technology was first released over a year ago, the results of tests using a size 280/70 R18 version of the tyre/track hybrid have continued to improve – so much so, that Andrew Mabin says the results "are now comparable" with a standard tyre of the same dimensions. "That led us to start dynamic tests of the larger 600/65 R38 PneuTrac concept. Until now, the larger 38-inch rim PneuTrac had undergone static testing only. Now we will apply the know-how we gained during dynamic tests of 18-inch rim PneuTrac to 38-inch rim PneuTrac. We believe in steady advances, but the release for sale is still some way off and subject to the continued successful development of the concept."
When PneuTrac finally sees commercial light of day, it may well be produced using rubber sourced from dandelions. In December 2014, Mitas shared its intention to evaluate the suitability of dandelion rubber for use in the manufacture of agricultural tyres. It will use rubber extracted from Taraxacum koksaghyz (Kazakh dandelion) and aims to produce the first prototype tyre some time in 2015. This plan complements Mitas' involvement in the Drive4EU project, which is researching the possibilities of using rubber from the Kazakh dandelion.
"We are examining different ways to use natural and renewable materials to produce our tyres," says Mabin. "Our research and development department is actively seeking new ways of improving our manufacturing process which includes researching new raw materials or substitutes. We are one of several tyre manufacturers researching the benefits of the Kazakh dandelion in producing a more sustainable rubber for our tyres."
"A European-made agriculture tyre produced from cultivated plants grown in Europe: That is our idea, and that is one of the main reasons behind our objective to produce agriculture tyres from dandelion rubber," adds Jiri Brejcha, material development manager at Mitas. "Planting dandelion in Europe will also reduce transportation routes and thus decrease the burden on the environment".