TTI awards nominees named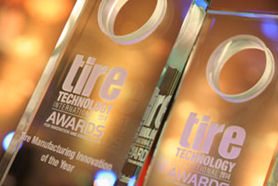 The nominees for the 2015 Tire Technology International Awards for Innovation and Excellence have been announced, and the shortlist of contenders includes a number of well-known tyre industry names. Goodyear, Kumho, Michelin and Yokohama are competing to be crowned Tire Manufacturer of the Year, and Michelin and Yokohama also appear a second time, being up against Trelleborg and steel wire specialist Bekaert in the Tire Technology of the year category.
The complete list of shortlisted nominations in each category is as follows:
Tire Manufacturing Innovation of the Year
Scannect – 4Jet
Tandem Mixer – Apollo Vredestein
Uni-Stage TBM – Intereuropean
NEO-T01 – Sumitomo Rubber Industries
Environmental Achievement of the Year
TPMS – Bridgestone
Micronised Rubber Powder – Lehigh Technologies
Biological Odour Removal System – Mesnac
Carbon Black anodes – Oak Ridge National Laboratory
Tire Technology of the Year
TAWI – Bekaert
EverGrip – Michelin
Pit Stop Line – Trelleborg
Aeroacoustic simulation around a rolling tyre – Yokohama
Tire Industry Supplier of the Year
Heico Tire & Rubber Group
Mesnac
NTRC/SovaMotion
Versalis (Elastomers business unit)
Tire Manufacturer of the Year
Goodyear
Kumho
Michelin
Yokohama
The judging panel has already cast its votes and the winners will be announced at a Gala Dinner in Cologne, Germany on 11 February 2015. In addition, the 2015 Young Scientist Prize and Lifetime Achievement Award will be presented on the night. These two prizes are subject to separate judging processes. The awards are coordinated by Tire Technology International magazine, which is published by Tire Technology Expo organiser UKIP Media & Events.