Michelin Young Driver wins Vauxhall Adam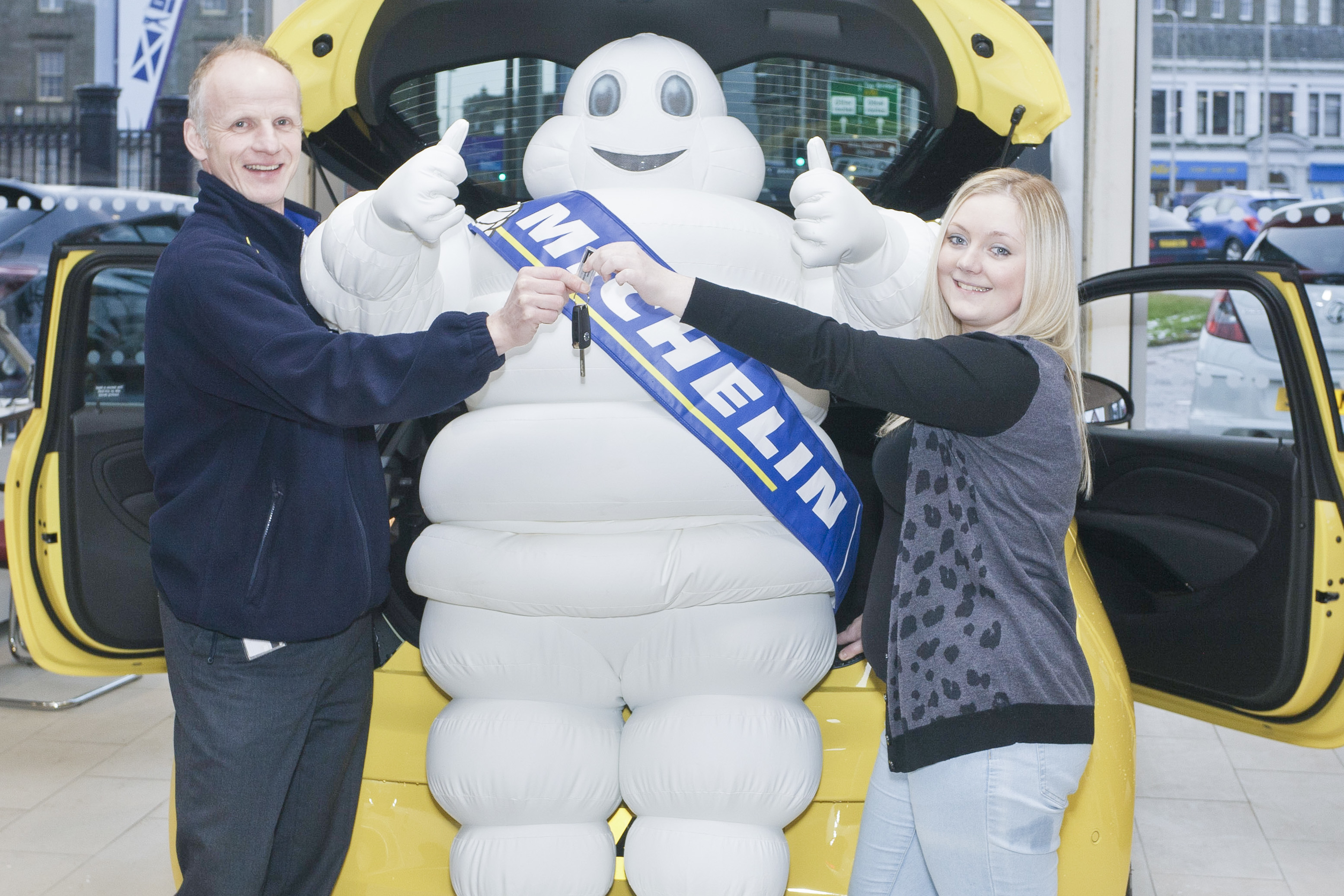 A Dundee motorist has been awarded a brand new car by Michelin, having taken part in the tyre manufacturer's Young Driver programme. Rachel Cameron, aged 20, from Menzieshill, received a Vauxhall Adam after taking part in the programme, targeted at employees' children and young employees aged between 16 and 24.
The project is designed to inform young drivers about road safety and offers a range of educational driving and road safety benefits including Drive iQ PRO, an online road safety programme, as well as the opportunity to have a car for a year.
Winner Cameron, whose father Alan is a reliability engineer at Michelin Dundee, will be able to use the car for the next 12 months complete with free car insurance. As part of its commitment to educate young drivers, the car has been donated for free by vehicle leasing and fleet management company Arval, Michelin's fleet partner.
Winner Rachel Cameron, said: "The Michelin Young Driver Programme has had a huge impact on my life and means I now have the knowledge to drive around Dundee and the UK in a safe and secure way.
"This is the first car I've owned and I'd just like to say a big thank you to everyone at Michelin for giving me this opportunity, as without it I wouldn't have a car.
"I'm really happy and overwhelmed to have won it and can't wait to get behind the wheel! Having this car will make a big difference to my day to day life, providing me with the freedom to transport myself and my family safely."
Corinne Li, road safety project manager at Michelin, said: "Young drivers are the most at-risk age group on the roads and we feel it's important that we help to educate them on the importance of road safety and how it can help them protect themselves, and others, while out and about.
"This is just one of the reasons we're offering them a comprehensive road safety programme designed to equip them with the tools and the knowledge needed for today's roads.
"Road safety is a key priority for Michelin and we are always trying to help the communities in which we operate. This initiative fits well with both those approaches.
"We're pleased to be able to give Rachel a car for 2015 so that she can use the information she's learnt from the Michelin Young Driver Programme to take to the roads safely."
Tracey Fuller, CSR manager at Arval, said: "We are delighted to support this fantastic programme which is consistent with our ongoing commitment to raise awareness of the risks faced by young drivers, and also all other road users."
The programme has been run nationally across Michelin's offices and factory sites in Baldovie Road, Dundee, Raceview Road, Ballymena and Campbell Road, Stoke-on-Trent. Michelin is continuing its education for young drivers at its website.