General Tire remains official tyre to US Jeepspeed series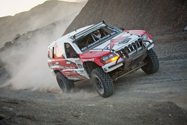 General Tire will continue as official tyre of the Jeepspeed Desert Race Series after negotiating a new multi-year sponsorship deal. The Continental brand has served as official tyre to the series since 2008 and supplies its Grabber tyre to participating teams. It says the partnership "has allowed Jeepspeed to offer its competitors affordable racing within the Best in the Desert (BITD) Series, where budget-conscious racers can compete on the same race courses as the pros." All Jeepspeed competition vehicles are fitted with Grabber tyres, in either 33 or 35-rim diameter. General Tire points out that the very same specification tyres are sold to the public.
"We're proud to extend our sponsorship with Jeepspeed," said Travis Roffler, director of marketing for General Tire. "This is an action-packed, affordable race series that continues to grow each year so it's a great partnership for us."
Clive Skilton, Jeepspeed founder, added: "We are honoured that General Tire has decided to continue its marketing relationship with Jeepspeed. Today you see thousands of Jeeps on the road with the familiar Red Letters Grabbers. It is quite remarkable how this success has occurred in recent years with Jeep enthusiasts that follow Jeepspeed and participate in Jeep enthusiast adventures."
Jeepspeed came into being after its creators returned from the 2000 Dakar Rally with the concept of an affordable off road race and rally type class for the United States that utilised Dakar suspension wheel travel limits together with American-built Jeep vehicles. The first race took place in 2001.