BlueTire technology for Trelleborg's TM150 sprayer tyre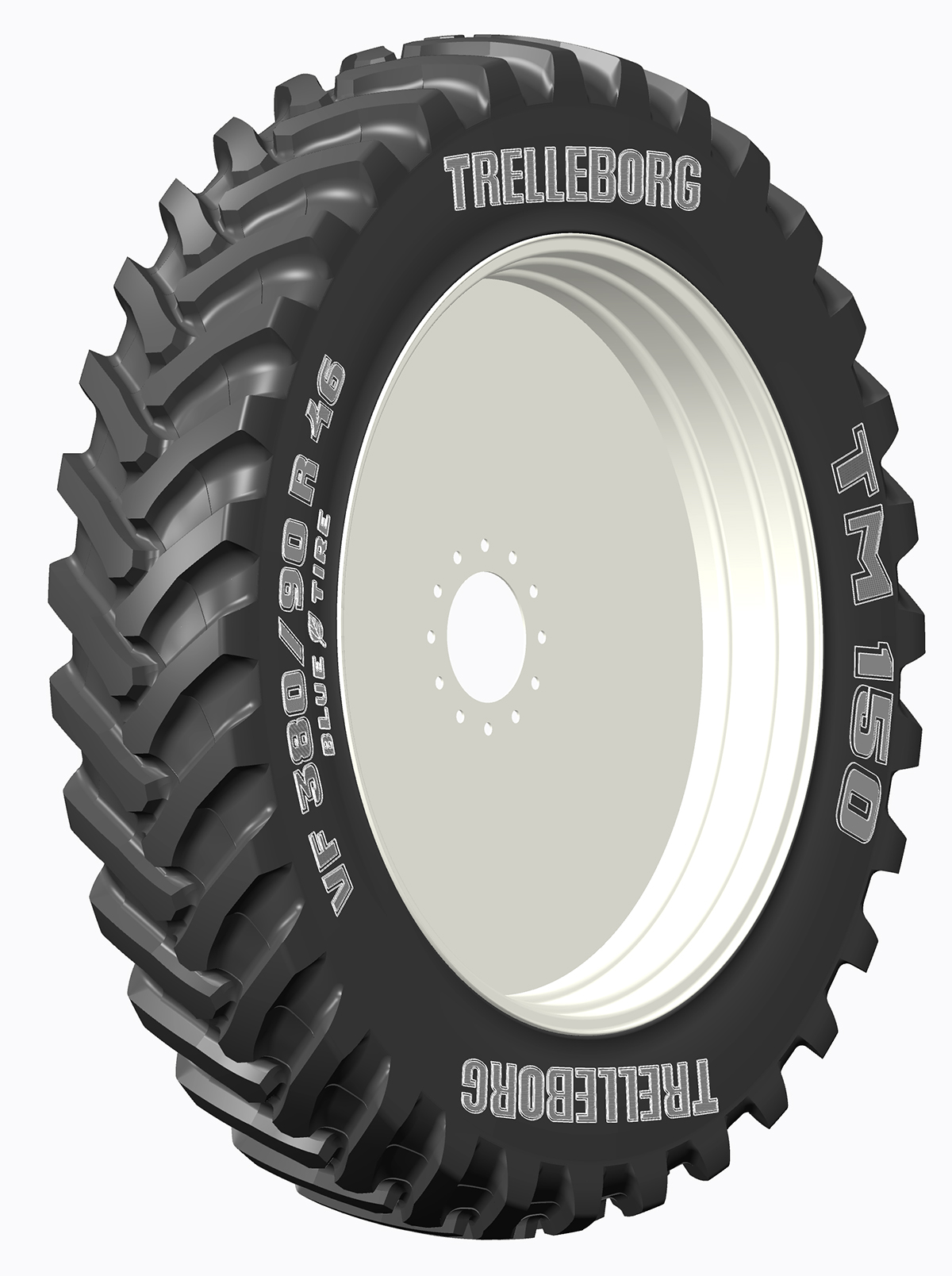 Trelleborg has announced the upcoming introduction of its new TM150 tyre for self-propelled sprayers, a range that features the company's 'BlueTire' technology. The range will be presented in February at the SIMA Show 2015 in Paris and at the World Ag Expo in the US, and will initially be available in size VF 380/90R46 173D. The very high flexion tyre is capable of carrying up to 6,500 kilogrammes at 65 kilometres per hour.
BlueTire is the name Trelleborg gives to tyres designed to work at a lower pressure and thus reduce soil compaction. According to the Swedish manufacturer, in comparison to standard products the new TM150 carries up to 40 per cent more load at the same tyre pressure or allows for 40 per cent lower inflation pressure when carrying the same load. "The need for higher productivity in the world's agricultural industry is driving the professional and extensive use of modern sprayers, particularly in Europe and America," says Emiliana Vesco, product manager for Agricultural and Forestry Tires within the Trelleborg Wheel Systems business unit. "New generations of fertilisers and self-propelled high powered sprayers require a significant upgrade of tire technology to cope with new and future highly demanding applications, primarily in terms of high load, stability and reduced soil compaction.
"The new TM150 line is the perfect choice to minimise ruts and decrease soil compaction. The advanced design of the TM150 ensures a footprint five per cent to eight per cent wider than standard series, with great benefit for crop yields," adds Vesco.
The TM150 tread pattern has been designed to prevent stubble damage and improve road performance, even at 65 km/h, the maximum permitted for a 'D' rated tyre. In addition, the new design features wide lugs to increase the tyre's stiffness when the machine is loaded and a sharp head to maximise grip, while the TM150's large and rounded shoulder increases vehicle stability when its booms are extended. The VF 380/90R46 can also be fitted on different rim dimensions, thus saving farmers and agricultural vehicle contractors both time and money.
Trelleborg says the TM150 line-up will continue to be developed, with more sizes added during 2015 to respond to increasing global demand for this range.