Mesnac wins CIRI Expo awards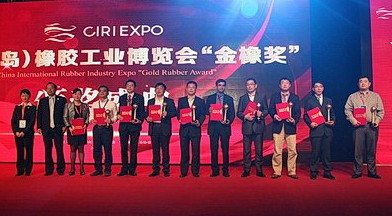 Tyre manufacturing machinery and systems supplier, Mesnac recently won the "Golden Rubber Award" at China International Rubber Industry Expo, which is also known as CIRI Expo. Mesnac was also recognized as one of the "2014 Top Ten Leading Brands" in China.
Purportedly the "Davos event" in the global chemical and rubber industry, CIRI Expo was held in Qingdao from 15 – 17 October 2014. Over one hundred exhibitors from China, Italy, Spain, Thailand, Japan and other countries were present to exhibit their latest technologies and products.
President of Mesnac Greater China region speaks with media
During CIRI Expo, Liu Yingjie, president of Mesnac Greater China Region, accepted a joint interview with over 20 professional media at home and abroad, including CCTV, China Daily, Huanqiu.com, China Rubber, iQilu.com and more. During the interview, Liu Yingjie elaborated on the global strategic distribution of Mesnac in R&D, marketing and manufacture as well as its global service network that covers Europe, North/Latin America and Asia-pacific.
Meanwhile, he mentioned Mesnac's latest R&D breakthrough in automation, intelligence and informatization solutions, such as a PCR single-stage tyre building machine, curing press, robotic arms, and automated storage and retrieval system (AS/RS). According to Liu, "the newly developed PCR automated tyre building machine only needs one operator. The cycle time could reach 50s/tyre. The latest hydraulic curing press can realize long-term automated continuous production, the operation rate of which is over 98 per cent."
As a real pioneer of tyre manufacturing automation in China, Mesnac is promoting the the notion of "smart factory", which means the consolidation of equipment, software, robots, RFID technologies and control systems. To this end Mesnac is to endeavouring to build a smart manufacture system that intelligently integrates all the manufacturing processes to give unique visibility into the process at all levels of the company.
During the 2014 International Rubber Forum and Information Conference, which was held alongside CIRI Expo, Jiao Qingguo, general manager of Mesnac Information Logistics Division, presented an intelligent logistics system. According Jiao, Mesnac's latest innovation in this area can realize automated sorting, dispatching, storage and data analysis in tyre plants.
Currently, Mesnac's customer footprint is spread across 300 tyre manufacturers in more than 30 countries and regions in the globe.