Budget winter tyres a false economy, says Continental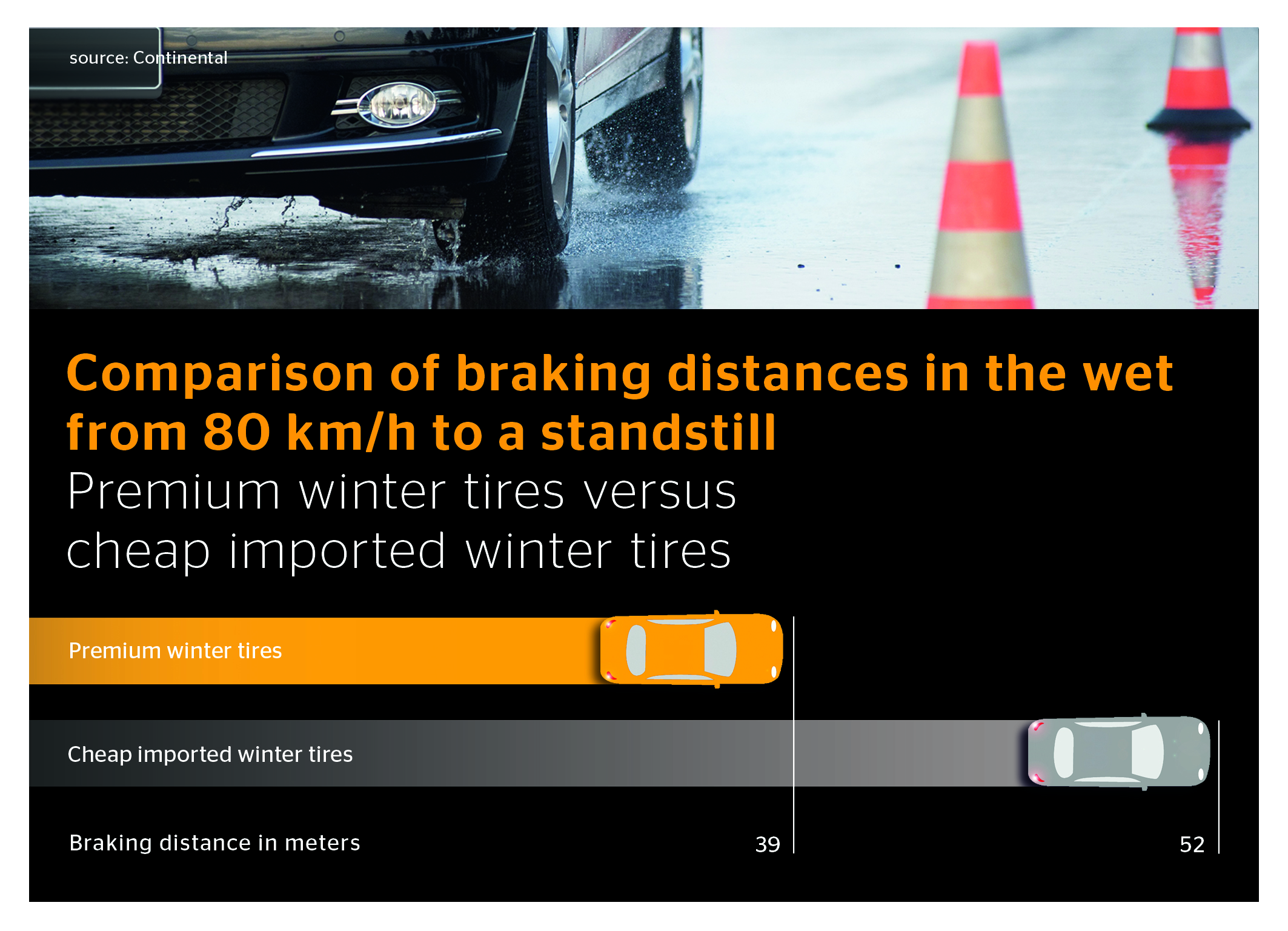 When the budget is tight the car may end up staying in the driveway a few years longer than planned, and the temptation to plump for a cheaper set of tyres is strong. But Continental argues that it is precisely these motorists – those driving older vehicles – who shouldn't scrimp when it comes to tyre purchases, particularly for winter tyres.
Quoting figures from the company's home market of Germany, Continental says the average age of the national car parc has reached a new high (8.8 years, according to information published by the Statista portal this year). This means that a high proportion of cars still have no driver assistance systems: Ten per cent of cars don't even have anti-lock brakes, while 30 per cent have no ESC system on board (DAT Report 2014). As a result, these cars have far lower safety reserves than more recent models on the roads. Particularly in the wet, they have to contend with much longer braking distances, and their steerability when taking evasive action, for example on snow-covered roads, is somewhat restricted. Therefore, Continental opines that saving money when buying tyres is precisely the wrong time and place to tighten the purse strings.
"Particularly for cars without driver assistance systems, premium winter tyres are a must," says Prof. Burkhard Wies, head of Tire Line Development at Continental. "They deliver high levels of grip when moving off and braking, as well as precise lateral guidance when cornering. Especially in hazardous situations, they offer that essential bit more safety. Which is only logical, because as the sole link between the car and the road, the tyres are actually one of the most important safety systems. You have to consider that the passive safety systems of these older cars were state-of-the-art around ten years ago – be it the airbags, the seat belt tensioners or other occupant protection systems."
In Continental's own words, drivers "who opt for all-too-cheap winter tyres" because of their car's low residual value "would do well to take note of the test results published by the car magazines and consumer associations." The tyre maker points to the winter tyre test published by German car magazine Auto Bild (issue 40/2014), commenting, with a choice of words that won't please everybody, that the publication warned against "joining the real losers" – those tyres that performed poorly on the wet braking test. Continental notes that the longest braking distance recorded in the test of 50 tyres was 52.7 metres (57.6 yards), more than a third longer than that achieved by its ContiWinterContact TS 850. With these figures in mind, Prof. Wies offers another reason to invest more in winter tyres: "Even a minor dent will normally work out more expensive than the difference in price between cheap winter tyres and a premium product. This kind of false economy can not only prove the more expensive option but also means a higher level of risk for all road users."