6.1MW solar plant inaugurated at Continental tyre factory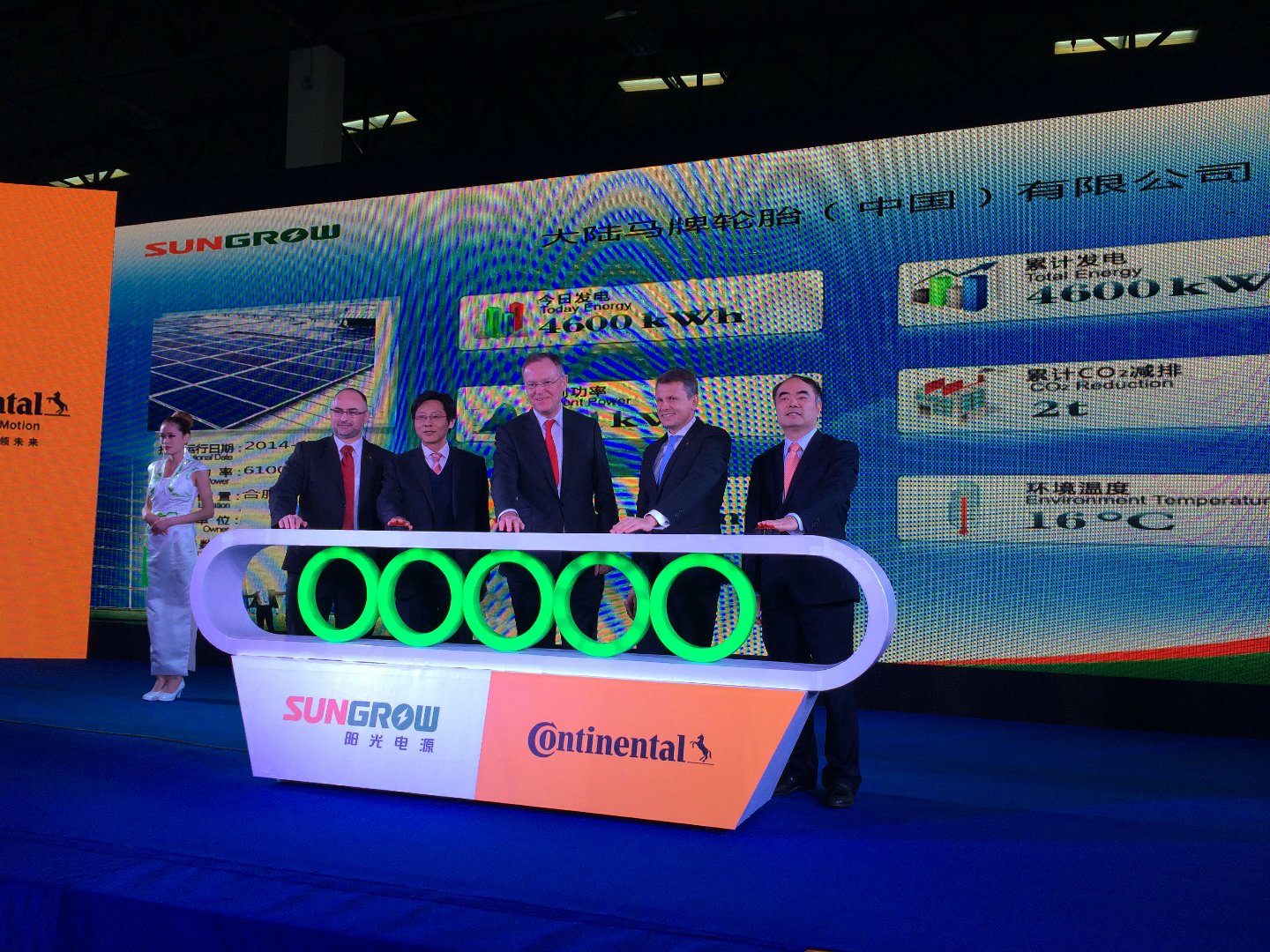 The solar photovoltaic power station project at Continental's tyre plant in Hefei, China was officially inaugurated yesterday at a ceremony attended by local government representatives and by Stephan Weil, prime minister of Continental's home region of Lower Saxony, Germany. Representing the tyre maker at the event was Dr Ralf Cramer, member of Continental's Executive Board and CEO of Continental China, and Michael Egner, general manager of the Continental site in Hefei. The solar project is being jointly implemented by Continental and HeFei SuMeiDa Sungrow Power Co., Ltd.
"With the pioneering solar photovoltaic power station initiative at the tyre manufacturing facility in Hefei, Continental shows again its commitment to saving energy not only with eco-friendly products, but also in the daily operations," stated Ralf Cramer at the inauguration. The roof of the Hefei plant has an area of around 70,000 square metres, the equivalent of around ten standard football pitches, available for the installation of photovoltaic panels. This means that by utilising the photovoltaic power station's 6.1MW installation capacity, the Hefei plant can reduce its carbon dioxide emissions up to 6,082 tonnes per year. The project's preliminary design has now been completed and project teams from Continental and HeFei SuMeiDa established, and work is underway to join the solar photovoltaic power station to the grid and commence operation; the aim is to achieve this by the end of 2014.
"Continental's various environmental indicators for its manufacturing operations in Hefei are on a leading position in the industry in China. We are interested in saving energy and therefore the cooperation in the solar photovoltaic power station project with HeFei SuMeiDa Sungrow Power Co., Ltd is beneficial both for the company, as well as for the local community", commented plant general manager Michael Egner. "I would like to thank the local government, as well as our project partners for this successful cooperation as well as our honoured guests for their presence at this special event."
The Hefei tyre plant is the first facility Continental's Tires division established in China, and to-date it is the largest foreign direct investment project in Anhui Province. The plant was set up with a €185 million investment and produces passenger car tyres, light commercial vehicle tyres and two-wheeler tyres for the Asia Pacific region. Around 900 people currently work at the Hefei site.