Trelleborg, Tractor Girl and Massey Fergusson prepare for South Pole expedition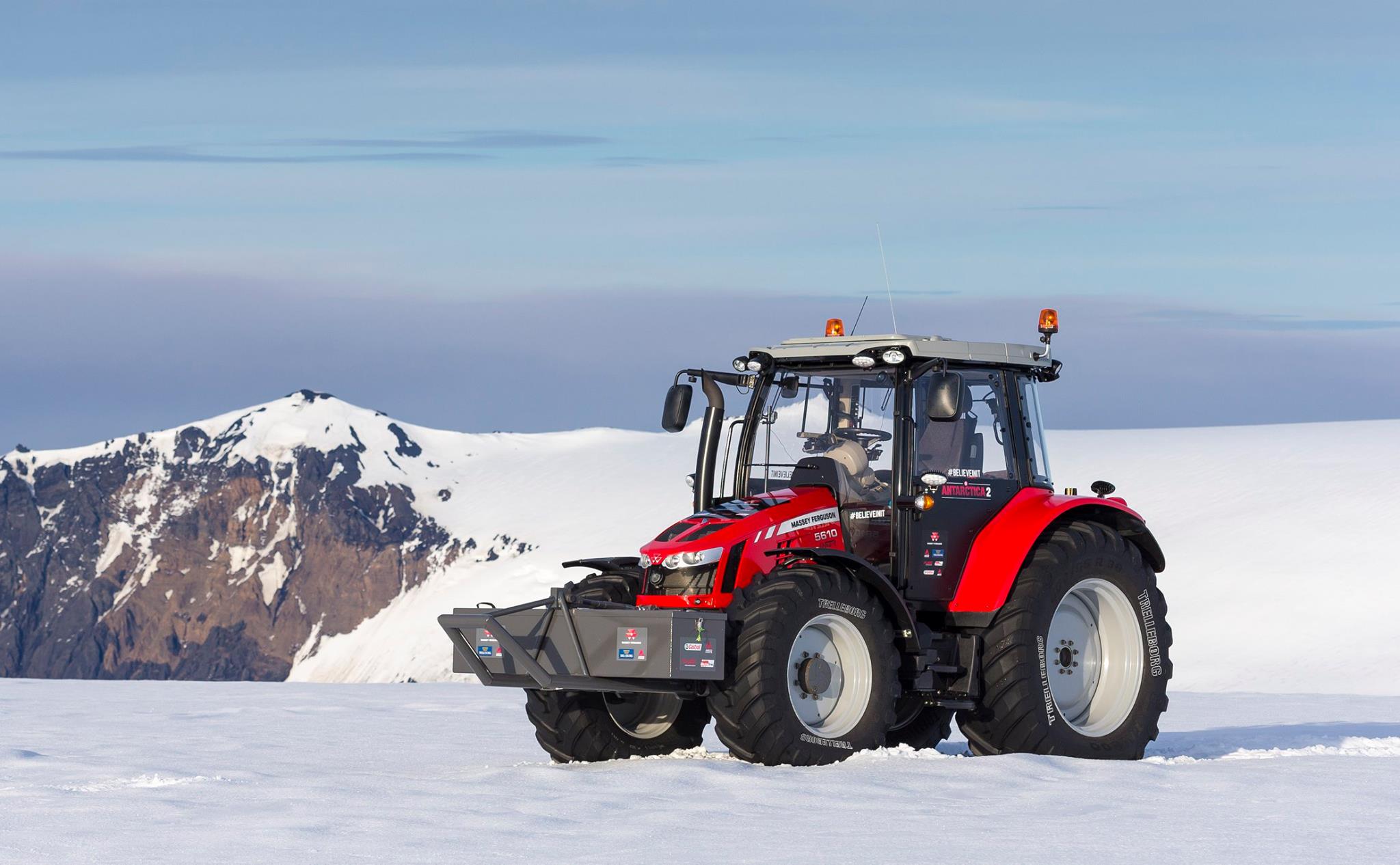 Most farmers are unlikely to ever operate their tractors in Antarctic conditions, but should the need arise it's reassuring to know they can. Massey Ferguson is heading to the South Pole next month with Manon Ossevoort – the Dutch woman popularly known as 'The Tractor Girl' – who will drive a MF 5600 tractor to the bottom of the world. Trelleborg has been selected as official partner for the 1,460 mile/2,350 kilometre 'Antarctica2' expedition that sets off on 21 November, and has developed a special multi-purpose tyre and wheel set for the journey.
"We decided to join Massey Ferguson in this adventure because the demanding conditions of Antarctica require flotation at extremely low pressure, grip and traction as well as reduced fuel consumption. The conditions require the ultimate degree of performance from agricultural tyres and rims, taking the level of tire performance to the absolute extreme," commented Piero Mancinelli, R&D director for agricultural and forestry tyres at Trelleborg Wheel Systems.
'Super' agricultural tyre
"To cope with diverse ice and snow conditions varying from low to extremely low temperatures, tyres need to boost grip through ultra-deflection of the carcass and widening the footprint as much as possible, at very low pressures," Mancinelli continued. "This, coupled with being well fixed with zero-slippage on the rim, reduces fuel consumption as well as securing reliability and comfort over the long run. In other words, a 'super agricultural' tyre and rim was required. As such, we want the performance of our tyres on the expedition to prove the great potential of our ultimate technology in even the most severe environments on earth. This will enable us to learn and leverage this know-how for the new generations of farming tyres."
The stringent testing of standard agricultural tyres that the engineering teams at Trelleborg and Massey Ferguson conducted showed that, due to the adverse weather conditions and harsh environment of Antarctica, fuel consumption and the level of traction performance required would pose significant challenges. Therefore, a tyre with premium floatation, which results in enhanced pressure distribution on the ground and superior traction, was essential to guarantee reduced fuel consumption, higher grip and increased driver comfort and handling.
"With these specific challenges in mind, we turned to our innovative ProgressiveTraction tyre which is characterised by a special double lug that operates on the ground at different times, progressively releasing higher traction when and where required," said Mancinelli. "The double lug also provides the tire with better floatation capability at low pressure."
After undertaking simulations and both indoor and outdoor testing, Trelleborg's engineers opted to adapt ProgressiveTraction tread pattern by reducing the height and rounding the tread in the shoulder area in order to make the tyre better suited to run on the soft surfaces encountered in Antarctica. A unique casing design capable of performing at a pressure as low as 0.3 bar was developed while the tread shape and surface was modified to provide the required grip. Trelleborg also developed a bespoke rim profile that ensures a safe bead position prevents slippage and rim roll-off.
"The enhanced ProgressiveTraction tyre fitted on the special Trelleborg rim performed extremely well during final testing conducted in Iceland, exceeding any initial expectation and we are looking forward to seeing the tyres in action in November. Antarctica 2014 promises to be a remarkable journey and we are excited to be part of such a widely anticipated expedition that will push the ProgressiveTraction tyre to its limits," concluded Mancinelli.
Campbell Scott, Massey Ferguson's director of sales engineering and brand development, added: "After working closely with Trelleborg in the past and as partners in the 17,000 kilometre Massey Ferguson Golden Tractor drive from Italy to the Arctic Circle in 2012, we're thrilled that Trelleborg has agreed to join us on this great adventure."
Massey Ferguson first visited the South Pole in 1958, when New Zealand explorer Sir Edmund Hillary led a team that drove three TE20 tractors to the pole.