Next 'Apollo Challenges' Manchester United contest begins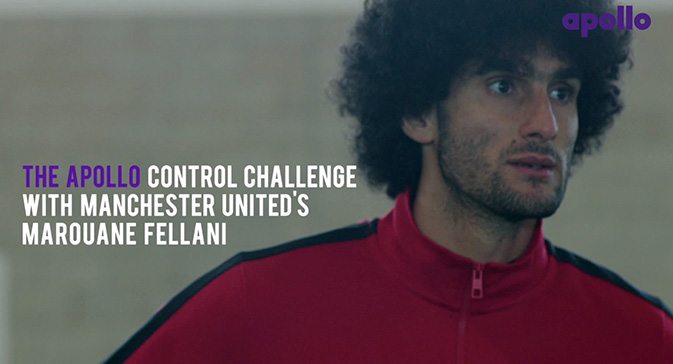 The second test in the Manchester United 'Apollo Challenges' skill challenge has been released. This unit is called the 'Apollo Control Challenge' and sees Manchester United and Belgium international midfielder Marouane Fellaini demonstrate how to master perfect ball control, an invaluable skill when playing in one of the most competitive and fast-paced areas of the pitch. The challenge can be viewed at the apollochallenges.com website.
"Close control is an essential part of any player's game and is one that is taught to Manchester United's youth teams from a very early age," commented Marouane Fellaini. "As I play in midfield, I know from experience how seamless close control creates the foundations upon which great performances are built."
Apollo Tyres and Manchester United created the Apollo Challenges to help grassroots players around the world access, test and refine three key skill-sets that have been the cornerstones of the football club's success on the pitch. The first challenge was released last month; Apollo Tyres reports an "overwhelmingly positive response" from fans to the 'Apollo Agility Challenge," which featured Manchester United and Spain international Juan Mata. Apollo selected the submission from Niki Kohmareh of Stockholm, Sweden as the best execution of the agility skill. Together with a guest, he will travel to Manchester on 13 December 2014 to watch the Red Devils take on Liverpool from a VIP Old Trafford box.
The person judged to have best mastered the 'Apollo Control Challenge' will win tickets to see Manchester United play Liverpool at Old Trafford on 13 December 2014. As was the case for the first challenge, entry into the competition requires a film to be submitted showing the protagonist mastering the skill being demonstrated. In addition to the VIP tickets to the match, the winning entry will receive travel, five-star hotel accommodation, a signed Manchester United shirt, post-game hospitality and a surprise goody bag.
The final Apollo Challenge featuring Ashley Young will be launched in November, providing fans with their final opportunity to win tickets to see one of football's longest standing rivalries.