Bandvulc hosts key partner conference in Manchester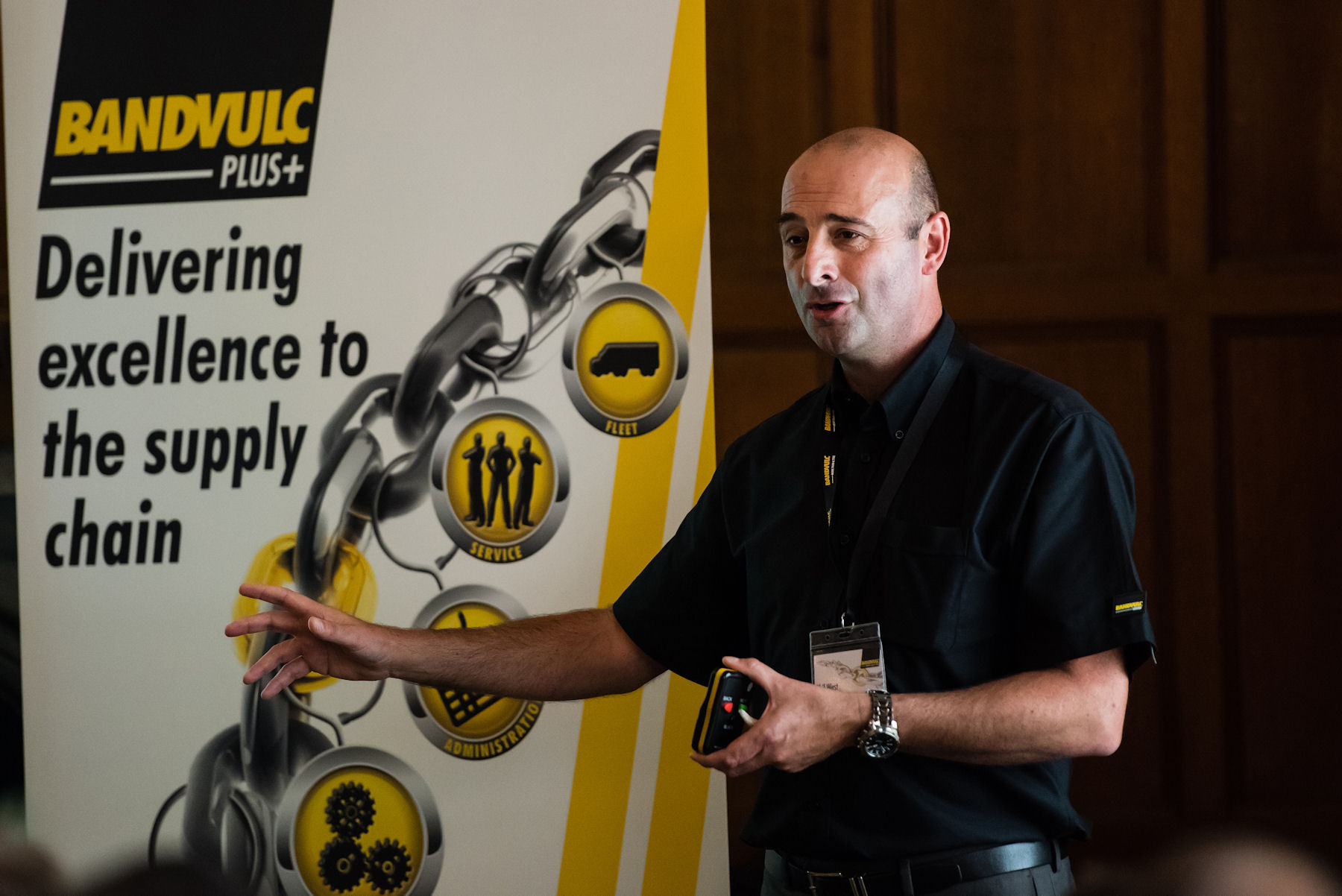 After a one-year gap Bandvulc recently held its Key Partner Conference for its dealer network at the prestigious Midland Hotel in Manchester. Famous for a particular historical partnership, the Midland was where Messrs. Rolls and Royce met and agreed to form their company. The conference theme was: Partnerships, loyalty and recognising customers. Company representatives explained that this year's conference was designed to inform the network of Bandvulc's performance amongst other things.
The conference was also an ideal time to introduce a new face in the form of Graham Mitchell, (BV Plus+ commercial director), who recently joined the business from Cooper Avon. Graham delivered a presentation on how Bandvulc Plus+ has evolved and its plans and method of delivery for 2015 and beyond.
Patrick O'Connell, Bandvulc MD, opened the conference with a warm welcome to all and explaining the business plans for investment and development in the coming years. "It's important that we recognise all parties involved in the tyre supply chain and it's all too easy to only notice those negative instances instead of the tremendous successes which the industry enjoys."
"Far too often conferences can be full of statistics, targets and driving forward through incentives and goals", said Phil West, commercial director of Bandvulc Group, adding: "By all working together on processes, training and designing solutions which fit the issues experienced it will ensure that we evolve and secure even greater successes in the future. Each dealer was awarded with a unique wooden plaque in recognition of their efforts and we look forward to working alongside them with our new plans and innovations".
A selection of some of the feedback Bandvulc received includes: "Based in Northern Ireland, Kerr's Tyres is a long-standing member of Bandvulc's Key Partner network. This year's event in Manchester was both informative and enjoyable…Their future plans and recognition of the role we all play bodes well for future development of business opportunities and continued growth. Kerr's puts great emphasis on delivering a top quality service and guaranteeing a rapid response. We see the same level of quality and commitment in Bandvulc and are delighted to be partnered with them". Norman Kerr, managing director, Kerr's Tyres.
"As always, Bandvulc's Key Partner conference was extremely informative…as you'd expect from Bandvulc!" Pat O'Grady,
general sales manager, Tructyre Fleet Management.
"…It is a real pleasure for Micheldever/Protyre to be associated with such a professional family-owned company like Bandvulc Tyres, and all their wonderful helpful, considerate, and supportive staff. I am looking forward to growing our businesses further together with Bandvulc throughout 2015. Thanks once again." Tony Manning, head of Truck Tyre Division, Micheldever Tyre Services Ltd t/a Protyre.