SRI meets 50% less rolling resistance goal with latest Enasave tyre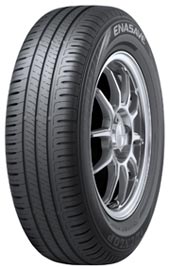 This month, Sumitomo Rubber Industries (SRI) has launched a new flagship product for its Enasave series of fuel efficient tyres, albeit only in the Japanese market. The Dunlop-brand Enasave Next has been introduced in size 195/65R15 91H and has achieved the coveted 'AAA-a' rank under the Japanese tyre label, the highest rating possible for rolling resistance and wet grip. SRI says the new tyre has 50 per cent lower rolling resistance than the standard Japanese replacement market Dunlop tyre in 2008, the year it set out to achieve this goal.
In order to achieve this decrease in rolling resistance, Enasave Next utilises several advanced technologies, including UPNR (Ultra-Pure Natural Rubber) and 'New Functionalized Polymer', which were both developed using Toyo's proprietary '4D Nano Design' new materials development technology. The manufacturer also reports the use of its latest 'Wet Grip Powder', which it says enables the tyre to achieve a 10 per cent improvement in wet grip performance compared with the Enasave Premium.
The first entirely fossil-free material tyre, the Dunlop Enasave 100, went on sale in Japan last November following its launch at the Tokyo Motor Show.