Smit: Cut rubber trees to manage price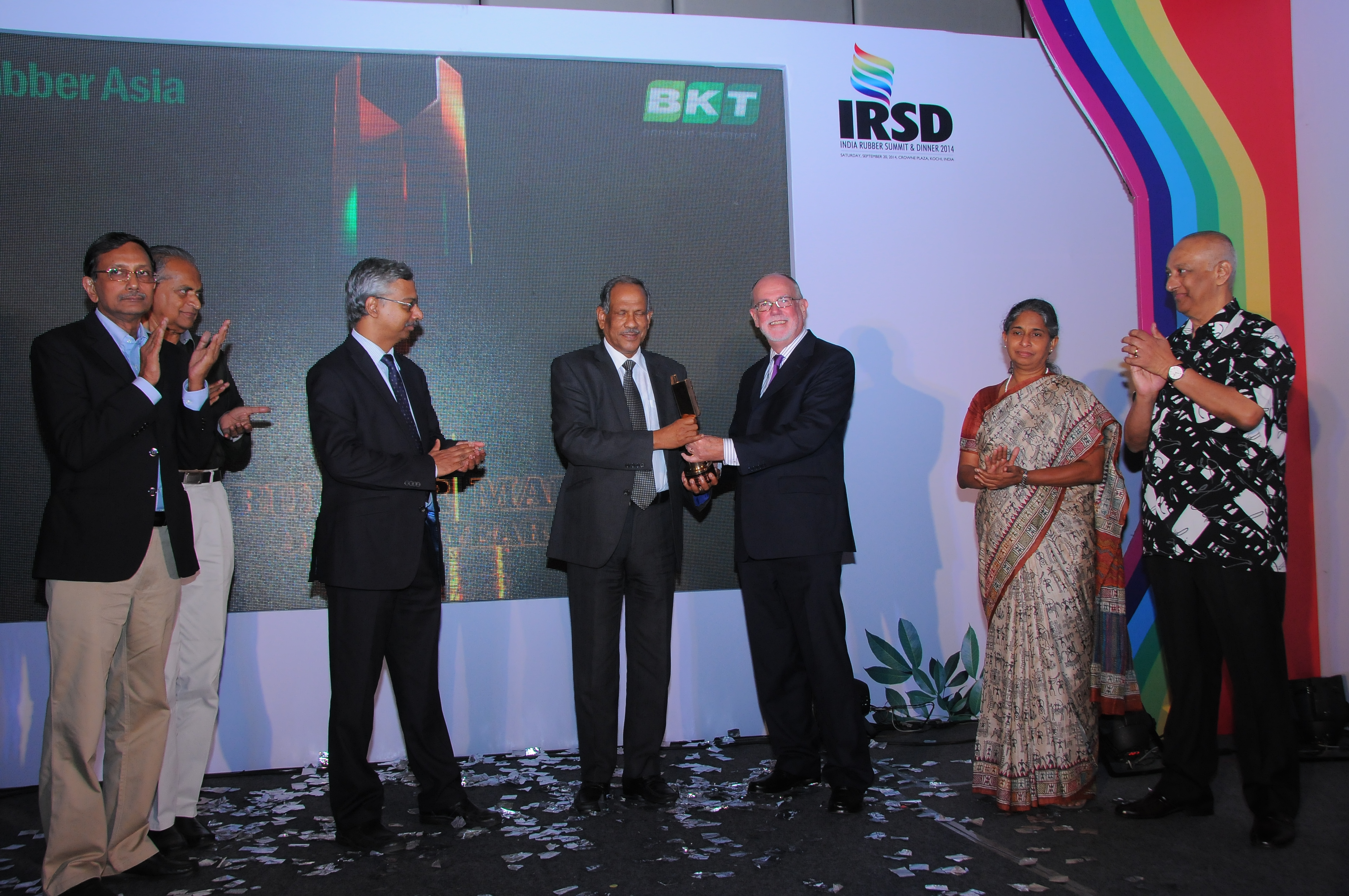 India Rubber Summit & Dinner 2014 discusses rubber price, presents awards
Dr Hidde P Smit, former secretary general of International Rubber Study Group (IRSD) and rubber market analyst, has suggested tree-felling and reduced tapping in order slow falling rubber prices.
Delivering the key-note address at the sixth edition of India Rubber Summit & Dinner 2014 organised by Rubber Asia in Kochi, India on 21 September 2014, he predicted that the low price regime could continue for the rest of the decade and even beyond. He said any intensive rubber planting done now could lead to a glut in natural rubber (NR) market after six years, bringing the prices down further. He added that world NR consumption is expected to touch 18.6 million tonnes by 2025, while NR supply may exceed demand at 19.3 million tonnes by 2025 and 20.2 million tonnes by 2030. However Indian market representatives disagreed, pointing to the Indian example and suggesting the rising supply deficit could be bridged only by boosting production.
Sheela Thomas IAS, secretary general, Association of Natural Rubber Producing Countries (ANRPC) and former chairman of Rubber Board, India said steps are being taken to stabilise commodity prices, but it is equally important to raise the income of smallholders. Vinayaraghavan said the Price Stabilisation Fund of the India Government has failed to serve its purpose and instead a Strategic Rubber Fund that addresses the concerns of farmers as a whole, instead of price alone, is needed.
Dr James Jacob, director, Rubber Research Institute of India (RRII) said India cannot produce rubber as cheap as the low-cost countries. "If we do not preserve the NR production base, there will be more imports. It is in national interest to import rubber if we don't produce enough," he said.
Dr J Thomas, former Rubber Production Commission, Rubber Board, and now the director, Spices Board, said growers should hold on to rubber cultivation in spite of the challenges at present as there is little scope for migration to other crops in India and the past experience of switching over to alternative crops like vanilla and cocoa had been disastrous.
P K Mohamed, advisor, Apollo Tyres, said there is too much focus on price and issues such as raising the quality of rubber, R&D initiatives too should get due attention of the industry.
Talking on Indian Tyre Industry–Challenges & Opportunities, M P Kanjolia, Senior Vice President, JK Tyre & Industries Ltd, said innovative technologies, deep and clear understanding of customer needs and proactive anticipation of challenges – be it technological, economical, environmental, operational – were needed to stay in readiness to respond to the emerging challenges.
Neeraj Kanwar named `Rubber Man of the Year 2014'
During the event's dinner session, Neeraj Kanwar, vice chairman and managing director of Apollo Tyres was named "Rubber Man of the Year". The award was received on his behalf by Apollo Tyres' P K Mohamed from Dr Hidde P Smit.
The Largest Tyre Exporter of the Year 2014 Award, won by Balkrishna Industries Ltd (BKT), was received by S Suresh from Dr A Jayathilak IAS, chairman, Rubber Board, India.
The Award for the Largest Rubber Products Exporter of the Year 2014 was received by Aamir Vohra, CEO of Zenith Industrial Rubber Products Pvt.Ltd., from Sheela Thomas IAS, secretary general, Association of Natural Rubber Producing Countries (ANRPC).
The Award for the Largest Producer of Synthetic Rubber for the Year 2014, won by Reliance Industries Ltd, was received on behalf of the company by Nirmal Gangopadyaya from Dr J Alexander, former Chief Secretary and Minister, Government of Karnataka.
The Award for the Planter with Largest Productivity (Estate) in 2014 was presented to S Ramachandran of Vaikundam Plantations Ltd, Kanyakumari district, by Anil Mishra, managing director of National Multi Commodity Exchange.
Prof Scaria Francis received the Award for the Planter with Largest Productivity (Smallholding) from C Vinayaraghavan, president, Harrisons Malayalam Ltd.
The Award for the Best Rubber Technology Institution, won by Indian Institute of Technology Kharagpur, was received by Dr. Thapan Kumar Chaki, Professor of the Rubber Technology Centre, from P C Cyriac IAS, former chairman, Rubber Board, India, and chairman of the Award Jury.