Michelin acquisition "rescues" German tyre wholesaler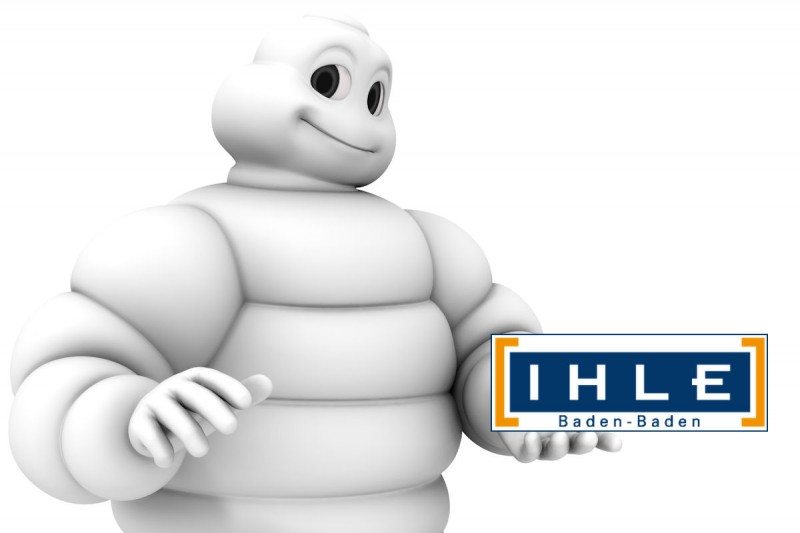 Speculation suggested that Michelin quietly prepared for its acquisition of German tyre wholesaler Reifen Ihle Baden-Baden AG over a number of years, yet evidence has emerged that shows the tyre maker's management team wasn't as visionary as thought when planning this particular transaction. And it's also become evident that Ihle's description of itself as "Europe's top-performing wholesaler for tyres, rims and complete wheel sets" hasn't reflected reality for a long time now. Michelin's purchase may now protect Ihle from further decline or even insolvency as since 2011, if not longer, Ihle has been in troubled waters and is, pending the consent of the German Federal Cartel Office, in need of rescue by Michelin before it sinks.
Information first shared with Tyres & Accessories in September suggested that the French tyre maker was planning a 100 per cent acquisition of Ihle Holding AG, a group whose assets include some 20 companies, including Ihle Baden-Baden AG, a business with a €175 million turnover that is headquartered in the spa town that serves as its namesake. The Michelin Group, we were told, already held a "non-controlling minority shareholding of approximately 19.865 per cent" in Ihle Holding AG, and the German Federal Cartel Office was conducting preliminary merger control proceedings that will enable Michelin to gain complete control of the company.
What more do we know about the potential acquisition? As €110 million of its stated turnover is said to be generated outside the company's home market, a deal with Michelin isn't just significant for Germany. It is of interest for other European wholesalers. And also to other tyre makers: The proportion of total Ihle Baden-Baden sales that come from Michelin products is not known, but traditionally the wholesaler has worked with a range of tyre manufacturers. It would seem in the best interest Goodyear, Pirelli, Continental and the other tyre makers to continue supplying Ihle as before, even though this would effectively mean doing business with a major competitor. A further point of interest is whether Michelin would maintain the current management structure at Ihle Baden-Baden AG. At present the wholesaler is led by Dr. Fabian Bohne, son-in-law of Gert Ihle (who took over control of the family business from his parents, company founders Fritz and Sofile Ihle, in 1963). The publisher of our German sister magazine Neue Reifenzeitung describes Dr. Bohne as a recognised expert within his line of work, but comments that this expertise comes with some rough edges. These rough edges have caused friction in relations with some suppliers, and the regularity of changes within the management team that works under Dr. Bohne must also be noted.
When news of a potential acquisition broke, our German sister publication described Ihle Baden-Baden as a "healthy and successful company" and observed that its official balance sheet for 2012 showed "no looming crisis". This appraisal later proved incorrect as – assisted by a series of changes in corporate form and name – the cold hard truth remained hidden within the books of Consus Holding GmbH and in consolidated financial statements (for Ihle Baden-Baden AG and international Ihle companies). All international Ihle companies belong to Ihle Holding Baden-Baden, however there is no requirement for these operations to publish their individual turnover figures. The consolidation instead appears in the Consus financial statements; or at any rate, the figures for 2011 did. Those for 2012 are long overdue, and if and when the figures for 2013 will appear is anyone's guess. This is not what happens in well-ordered circumstances. So what then can be deducted from this?
It appears that 2011 was an erratic year for Ihle Baden-Baden in every respect. Company turnover increased from 210 million euros in 2010 to 245.5 million euros and the operating result largely kept pace. Around 22 per cent of turnover was generated in Germany and the remainder in other markets. However, following an annual group net profit of 6.2 million euros in 2010, in 2011 Ihle recorded a loss of 4.2 million euros. Bank debts rose from 4.9 million euros in 2010 to 32.6 million euros the following year, the accounts payable to suppliers from 36.5 million euros in 2010 to 56.3 million euros. Other operating expenses jumped from 27 million euros to 39.8 million euros.
The rising supplier and bank debt was in part explained as a by-product of increasing warehouse capacity in order to secure product availability. A decisive factor was also the 4.5 million euro exchange rate loss related to a massive appreciation in the value of the Swiss franc.
Ihle Baden-Baden's operating profit declined from around 25 million in 2011 to some 20 million in 2012. And it is no stretch of the imagination to believe that a further reduction also occurred in 2013 (the results for last year are not yet available). This year won't bring any great turnaround, either. Following a good start for the market, the figures went south in the second quarter and it appears they've continued to do so in the third. It is very possible that the market will slip back to 2012 levels this year. These are less than optimal conditions for a company wishing to regain a steady footing.
Ihle's failure raises an important question: Do independent tyre wholesalers still have a future or has the business become much too light and, thanks to the many online portals, much too transparent, making price the only factor that counts? Do developed supplier/customer relationships still exist or will the business more or less be replaced by anonymous, cut-price marketing? Someone receives a tyre for X price and has no interest at all in who suplies it, just that it is reliably and punctually delivered. Online portals force "price adjustments" to take place at lightning speed. As at petrol stations, prices can change hourly – downwards, of course.
So what then is a tyre wholesaler's core business? Are wholesalers these days just the best freight forwarders? As the trend seen in recent years shows no sign of reversing or imroving, it may well be that the best days for wholesalers already lie in the past. And looking forward they may find, as Mother Hubbard did, that the cupboard is one day bare. Hardly a tempting scenario. Bearing this in mind, it is likely that Ihle head Dr. Fabian Bohne has recognised these current and future limitations and decided to make his exit through a sale, before any further doubts about Ihle's creditworthiness arise.
On its website, Ihle blows its own trumpet by describing itself as the "best-performing wholesaler" and "unbeatable in total services." But if Ihle Baden-Baden AG is so unbeatable, why would such a pearl be sold to Michelin? And why did Michelin first acquire a less than 20 per cent of Ihle-Holding AG, and when did it do this? A 20 per cent share would have cost Michelin good money and given the company no say at Ihle. Therefore it was suspected that Michelin had already decided to enter the business several years ago and had set out who, when and at what price the remaining 80 per cent could be sold or bought. Tyre majors like to operate according to long-term, strategic plans. Yet in this case the idea of well laid out Michelin plans burst like a soap bubble due to the fact that– at least at the end of 2012 – Consus AG (previously Ihle Holding AG) still held all shares. If Michelin was already in possession of 20 per cent, it wouldn't be possible for 100 per cent to lie elsewhere.
The Ihle business model functioned very well in the first ten years of the new millenium. It didn't buy or sell via the grey market, rather it formed partnerships with the tyre makers. And from the beginning it had a very good and close relationship with the Michelin Group. And Ihle was able like no other to deliver small quantities of tyres throughout Europe, and was performing this function at a time when the tyre majors themselves preferred to only focus on those few customers who ordered large quantities. Wholesalers such as Ihle provided the opportunity to continue this emphasis on major customers without losing the contracts of thousands of smaller and small customers. As Ihle was active across Europe, particularly Central Europe, Michelin saw no need to develop its own distribution basis. Professional wholesalers were ahead of the industry and all but perfected their logistics at costs that astounded the tyre majors. However the internet and the transperancy that accompanied it has brought forth completely new market conditions in the past few years, conditions that no wholesaler has yet found the appropriate answer to. And it will be very hard to find a suitable answer.
This brave new world is easier for Michelin. A tyre maker looks after its brand, with or without wholesalers. It must then "only" ensure that its products reach customers as quickly and cheaply as possible. Therefore acquiring Ihle makes sense for Michelin as it places the entire Ihle logistics structure at its disposal to use and expand. And Ihle need not limit itself to a central warehouse, rather it can gain access to numerous Michelin warehouses across Europe.