Just Tyres MD completes latest leg of Ugandan journey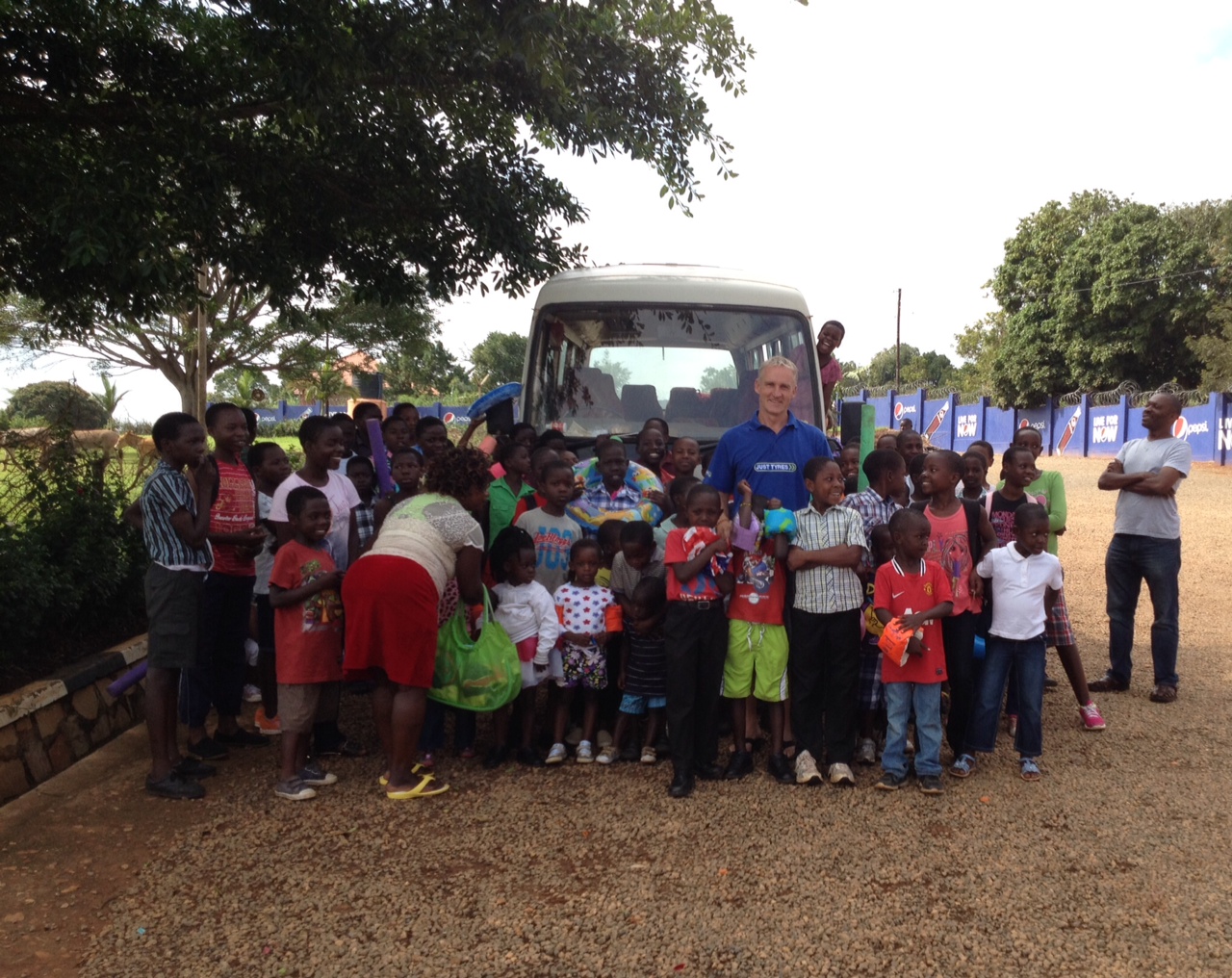 The managing director of UK tyre retailer Just Tyres has completed the latest leg of a long distance journey to Uganda. Ian Grant, has raised £20,000 for the Kampala Children's Centre over the last 12 months, which has paved the way for a comprehensive education programme that trains adults how to teach youngsters basic numeracy and literacy skills.
The Milton Keynes father of two has just returned from his latest visit to Africa, where he presented the centre with a coach which will transport youngsters to and from their homes. He also revealed that 127 disadvantaged children now benefit from its facilities, compared to around 60 when he last visited in October 2013.
The bus is worth more than £10,000 and a large proportion of the funds were raised at Just Tyres' network of centres across the UK, where motorists have been making donations for a number of months.
Grant said: "My heart is in Kampala, after being introduced to the children's centre through my local church. Providing a new 30 seater bus was the latest goal and after a great deal of hard work and general fundraising, we were able to provide the centre with the vehicle earlier this month.
"We take many things for granted here in the UK, including transport. There aren't many ways for people to get from 'A to B' in Kampala and a new bus addresses this issue, allowing youngsters to get to and from the centre, not to mention places of work as they get older.
"It really will make a huge difference and it is a great feeling being able to make a small difference in this way."
Tyre manufacturer Bridgestone supported Grant's trip with branded clothing for the children including T-shirts and caps, while Just Tyres continue to raise money for the scheme in a number of ways throughout the course of the year.
Grant added: "I saw a synergy between the environment and Just Tyres, with a strong emphasis on the word 'justice'. As a brand, we pride ourselves on being fair and good to our customers.
"I guess this venture is a big extension on the whole principle and my latest trip last month was extremely successful. We are all busy right now but you have just got to find the time to help projects like this.
"My long-term aim is to provide some green seeds for Ugandan youngsters, which will grow over time and ensure that they are self-sufficient – and fulfilled – as they grow older."
Information about Ian Grant's and Just Tyres' Kampala Children's Centre project is available on its website here: www.justtyres.co.uk/kampala-charitable-giving