Federal celebrates diamond anniversary in Moscow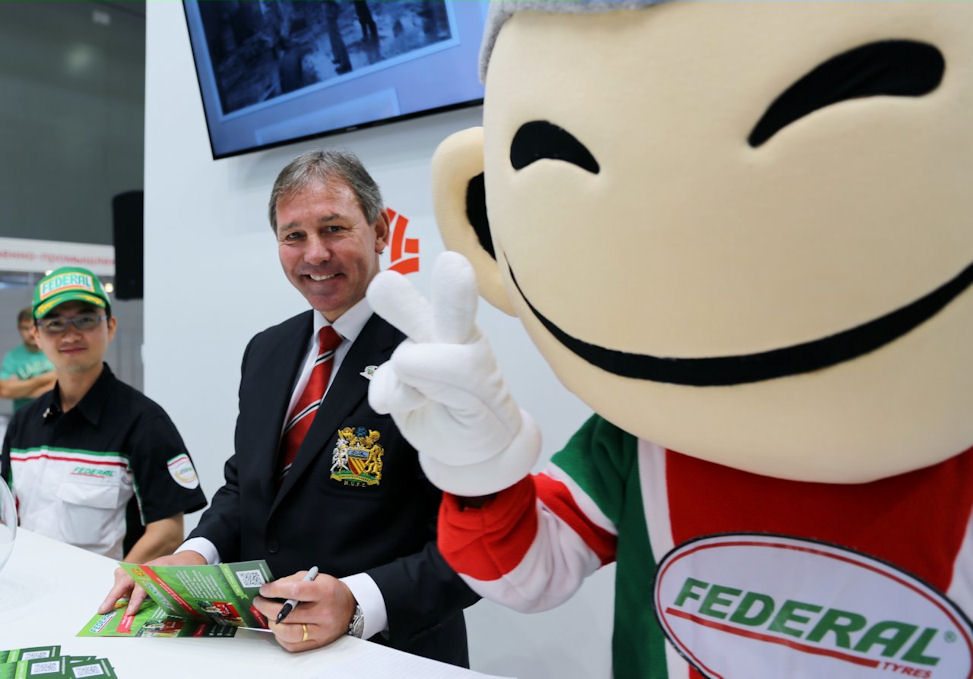 At Saturday's Federal Tyres 60th anniversary celebration in Moscow, more than 100 of the tyre maker's Russian market partners met guest of honour Bryan Robson. The former Manchester United player addressed the partners along with representatives from Russia's automotive and football media.
"It's wonderful to be here in this great football city celebrating Federal Tyres' 60th Anniversary," he said. "The best teams are built on a clear idea of what you want to achieve together. Federal is the perfect teammate for Manchester United: we both value high-performance, innovation and heritage, and we both have a great tradition of success – with the trophy cabinet to prove it. On behalf of everyone at Manchester United, we wish Federal all their best in their Diamond Jubilee year and in their mission to help Russian drivers wake up the Champion inside."
Geoffrey Chang, Federal Tyres' marketing manager, added: "Federal Tyres was founded in 1954. We're not quite as old as Manchester United, but we certainly know what it takes to come first. But maintaining a winning tradition means never standing still, and we are constantly looking for new innovations and new breakthroughs. We are confident that with the power of Manchester United behind us, Federal can connect with more local distributors and more end-users than ever.
Federal has been present in the Russian market since 2004, and its products are currently available at over 10,000 points of sale via a distribution network of nine wholesalers in eight cities including Moscow, St Petersburg and Ekaterinberg. "I'd like to take this opportunity to thank Federal's partners in Russia for their continued support," Chang continued. "Their backing has helped us establish a strong foothold in this market over the last decade. Their backing will help make sure that the next decade will see even greater victories for all of us."
The ceremony in Moscow included a prize raffle, plus the cutting of a giant birthday cake. Ivan Kazakov, winner of Federal's Guess the Legend Competition, received his prize of a signed Manchester United jersey from Bryan Robson.