Continental helps youngster share love of football with the world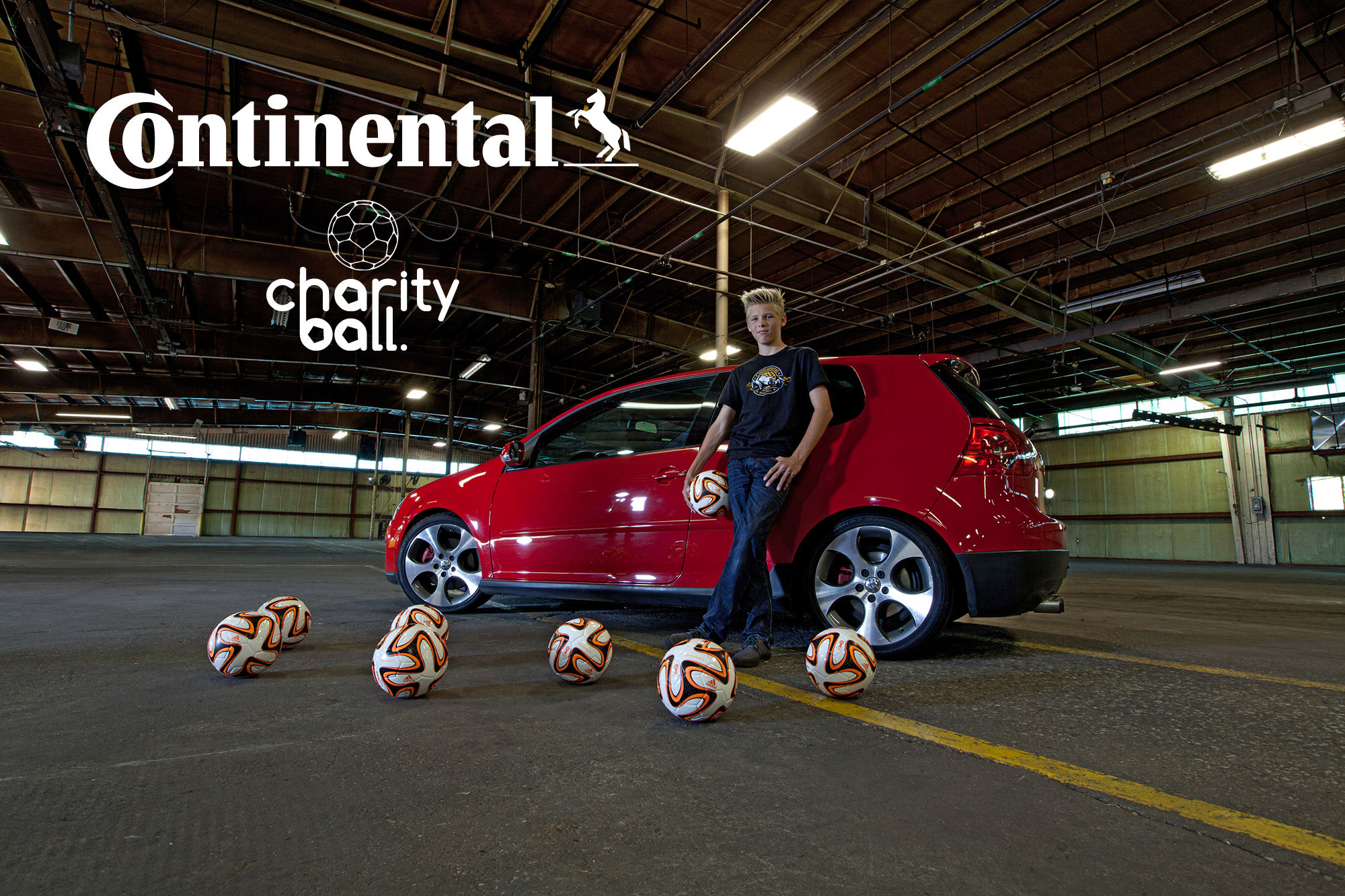 For Continental, supporting football isn't just about brand exposure in packed stadiums. The company's US operation has recently donated 1,000 new footballs to a 15-year old who shares his love of the beautiful game in developing countries.
Continental Tire the Americas opines that people like Ethan King add to the beautiful game's beauty. King founded a charity following his experiences at the age of ten, when during a work trip with his father he gave his football to some local children in Mozambique and witnessed the impact this simple gesture had on them. Since then, his Charity Ball has delivered over 4,500 new footballs to children in 22 developing countries. Continental Tire has now added to this tally with the donation of 1,000 adidas footballs.
"What Ethan has done in five short years is amazing," said Travis Roffler, director of marketing for Continental Tire. "Taking his passion for the game of soccer and turning that into a successful cause marketing campaign at just ten years old, is commendable. We're proud to support Ethan and Charity Ball and hope that others will do the same."
The 1,000 balls donated by Continental Tire will help King reach his dream of providing a new football to every child around the world who loves the game. His efforts are said to have already had a positive effect on many – since establishing the charity, King has received reports of crime rates dropping, communities uniting, and girls receiving their first on-field taste of football. King has also partnered with Borussia Dortmund's Neven Subotic, and the duo documented a trip to rural Mozambique in an eight-minute documentary short called "Pass the Ball".
In connection with its ball donation, Continental interviewed Ethan King to hear his story in his own words. Here's what he had to say:
Q: How did you become interested in playing soccer? What level do you play now?
A: In 2007 my family moved to Johannesburg, South Africa. I soon joined a local youth team and fell in love with the sport. Also, playing the video game FIFA on Playstation, after soccer practice, helped me understand tactics and strengthened my understanding of the game. I currently play for a club team called Lakeshore Premier SC in Grand Haven, Michigan. We compete in the MSPSL league and play the best teams from all over the state. I also play on the Michigan ODP state team. Just this past summer our team went to the regional competition, won the showcase, and now this upcoming February, our team will be headed to Phoenix, Arizona for Nationals.
Q: What inspired you to start Charity Ball?
A: In the summer of 2009, I went to northern Mozambique with my Dad to help repair water wells in local villages. I took my soccer ball along thinking I might be able to get a pickup game going with the local kids. When we arrived at the village of Ntette, I threw out my ball and in a matter of seconds, 50 kids were playing. It was awesome! Many of those kids had never had the opportunity to enjoy playing soccer with a real ball. I saw that the balls they had previously been using were basically just trash bags wrapped up with twine. As I watched the kids play, it was hard for me to think that I would be heading back to the States where I had several soccer balls in my garage just sitting there. These kids in this village had none. I thought to myself, these kids would enjoy this soccer ball far more than me. So, I walked over and presented my ball as a gift. After coming back to the states after the trip, I kept replaying that scene in my mind and decided I wanted to do more and keep giving new, quality soccer balls to kids in need of them.
Q: How many soccer balls have you delivered and to how many countries?
A: Over the past four years close to 4,500 soccer balls have been hand delivered to kids in 24 different countries around the world. We also have an upcoming delivery of 500 soccer balls for kids down in Brazil as well.
Q: How do you identify recipients of the balls and why is it important that you hand deliver each and every ball?
A: Our criteria for Charity Ball requires all kids who qualify for receiving a soccer ball to already be living in an area, or a situation, where a quality soccer ball is not accessible or they don't have the means or money to purchase one. Our couriers who hand-deliver the soccer balls around the world help us identify whether the kids meet the criteria and are eligible to receive a Charity Ball. It is very important that the balls are hand delivered because then we don't run the risk of losing balls to customs or they don't get lost in shipping. But, it's more than that. When we hand-deliver soccer balls, we present them as a gift to kids and tell them it belongs to them. It makes it personal and meaningful to the kids.
Q: What's your ultimate goal with Charity Ball?
A: The ultimate goal is to get every kid around the world who loves the game of soccer, their very own new, quality soccer ball.
Q: What does it mean to have the support of sponsors like Continental Tire and individual contributions?
A: It's fantastic. We recognise that without the help and support of individuals and sponsors like Continental Tire, none of this would be possible. We appreciate those especially, who are willing to get behind the cause and help contribute to making a difference in this world. To have big companies like Continental Tire get behind us and support what we're doing is a huge statement, and it would be amazing if others would follow suit.
Find out more about King's work at www.charityball.org.