Conti offering third generation retreaded trailer tyres from October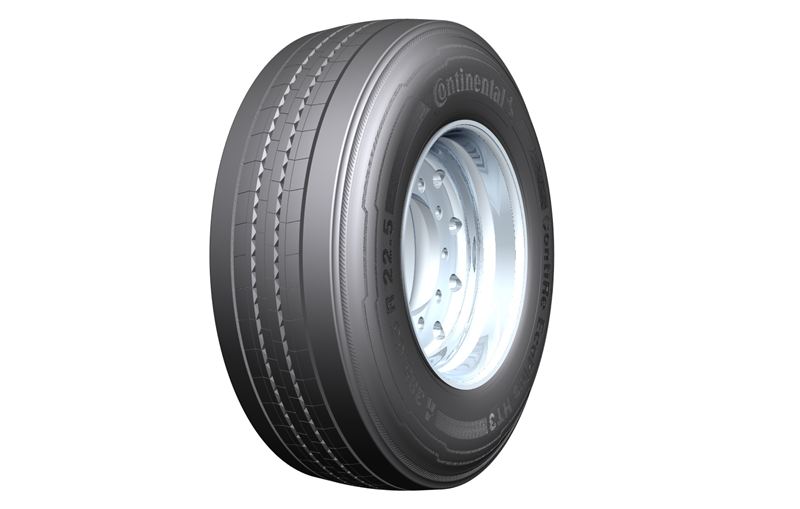 Continental AG has announced that its first third generation truck tyres will be available as retreaded tyres from October. Specifically it will be the first hot retreaded ContiRe EcoPlus HT3 from the ContiLifeCycle plant in Hanover.
The ContiRe EcoPlus HT3 is the retreaded version of the new trailer tyre Conti EcoPlus HT3. According to the company, it features "newly adapted polymer rubber compounds for treads and sidewalls, closed shoulder belts and an improved "Plus Volume Pattern" tread concept". Together they are said to significantly improve rolling resistance (with a decrease of up to 26 per cent compared to its predecessor) and handling characteristics of the new tyre. The optimised grip in the newly adjusted tread compound is designed to transfer the trailer's cornering forces and high share of the braking torque to the road. In addition, the pyramid-shaped triangular ribs integrated into the base of the tread are there to help stabilise the trailer tyre against flexing in the tread width.
Furthermore company representatives report that the ContiRe EcoPlus HT3 maintains the same benefits asthe new tyre, Conti EcoPlus HT3, thanks in part to the design of all Continental commercial vehicle tyres, which takes retreading into account during product development. Equally beneficial is the integrated approach of the innovative ContiLifeCycle plant where Continental is aligning the production of retreaded tyres for trucks and buses, by combining the use of techniques from new tyre production and refined retreading technologies. Continentals' own rubber recycling system is also an essential component of the ContiLifeCycle plant. The tread powder that arises during buffing is put through a series of processing steps, so the curing process is reversed. The recycled rubber produced is therefore of such a quality that it can be used for new tyre compounds. Through this recycling process, the amount of waste can be reduced by more than 80 per cent, with significant CO2 savings.
Christian Sass, head of Truck Tires Retreading EMEA (Europe, Middle East, Africa) explained the efficiency of retreaded tyres: "Premium retreading can significantly help fleet operators reduce their tyre costs by up to 25 per cent. This generates the lowest overall driving costs within our ContiLifeCycle. The lower consumption of valuable resources such as natural rubber and the production energy saving of up to 70 per cent compared with new tyre production also improve fleets environmental impact."
As with all Continental truck tyres, the new ContiRe EcoPlus HT3 also features the patented AirKeep inner liner to prevent gradual loss of air pressure. All retreaded ContiRe tyres also benefit from the same manufacturer guarantees as for new tyres.