Ross Brawn evening raises £2,500 for motorsports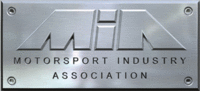 More than 200 motorsport industry guests gathered at the world-famous Williams Formula One HQ recently, for a special evening with motorsport legend Ross Brawn OBE. The evening resulted in more than £2,500 being raised to support a brighter future for motorsport in the UK.
The evening was hosted by the Motorsport Industry Association (MIA) with funds raised shared between The Motorsport Foundation and SKIDZ. The Motorsport Foundation was founded by members of the MIA to generate funds to support activities which increase participation in motorsport. It works to encourage new competitors, audiences and talent to create a greater demand for motorsport services and equipment and therefore boost business in the UK.
SKIDZ provides industry recognised training and education in motor vehicle studies to disadvantaged and at-risk young people to prevent them from becoming Not in Education Employment or Training (NEETS).
Chris Aylett, CEO of the MIA said: "The MIA was honoured to host an evening with Ross Brawn, particularly at Williams, the team where Ross' outstanding career in motorsport began. The audience at this memorable evening generously contributed funds to support the future growth of UK motorsport and the needs of very special young people through SKIDZ, a cause that is particularly special to Ross."