Formula E is a "championship for the future" says Michelin Motorsport director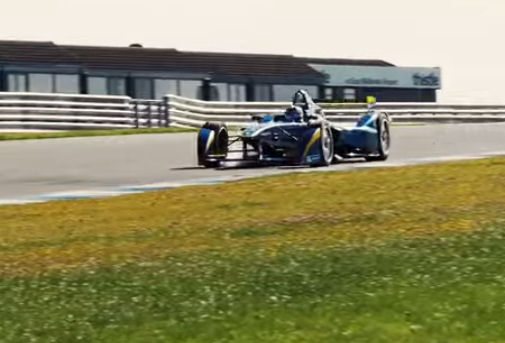 A month from now, 40 electric racing cars will line up on the grid at the inaugural Formula E Championship race in Beijing. Each of the tyres that take to the track on 13 September will be fitted with identical tyres that were specifically developed for the competition. In a Michelin-hosted Q&A session, the company's motorsport director Pascal Couasnon explains that the decision that all cars should run on Pilot Sport EV tyres was not simply a strategic option in technology terms; he says it was also an obvious choice.
Why has Michelin become involved in Formula E?
There are three main reasons. In the first place, the Formula E Championship addresses a set of problems that have always preoccupied the Michelin Group: how to drive mobility forward. Our signature 'A Better Way Forward' encapsulates our mission. It's been Michelin's driving force since 1889.
Secondly, this new championship has a city-centre setting and a format that will put us in touch with the urban audience. With the E-village being set up beside these street circuits, this new audience will provide many opportunities to achieve a better understanding of the role tyres play in sustainable mobility.
Last but not least, we see this as a championship for the future, one that will attract strong media coverage and consequently provide our brand with increased visibility and the opportunity to underline the values Michelin embodies.
How can Formula E help Michelin to take mobility forward?
Motorsports in general and Formula E in particular serve as real-life laboratories which encourage all the players to bring an innovative approach to the table. Formula E will not only help us to make tyres specifically for electric vehicles, but it will also help us to improve all of our tyres in terms of their energy efficiency. Energy consumption and range are two criteria that are influenced by a tyre's resistance to forward movement. If you have a tyre that's efficient in energy terms, that means lower energy consumption, whether that energy be provided by petrol, diesel or electricity, and this translates into increased range. It's this kind of information that we will harvest from our involvement with Formula E. The new technologies that flow from there will benefit the entire Michelin product line.
The Michelin Pilot Sport EV tyres on these Formula E cars look very like the 245/40R18s we see on production sports cars. Will it be commercially available?
Yes, there is a striking similarity, isn't there? But the Michelin Pilot Sport EV on these cars is a tyre for limited use, covered by trade secrets, and it will never find its way on to a production car. Having said that, we are clearly going to use the technologies we are trialing on this tire in the production of future ranges. And we are delighted that these cars are running with 18-inch rims – a world first for a single-seater racing car which Michelin has been advocating for years – because that size will make technology transfer from race-track to road so much faster.