Yokohama an 'Energy Efficiency Forerunner' in China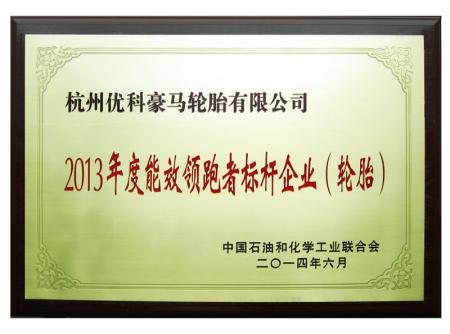 Last month, Yokohama's passenger car tyre production and sales unit in China was commended as an 'Energy Efficiency Forerunner' at the 2013 Annual Petroleum and Chemical Energy Efficiency Benchmarking Enterprise Conference. The commendation given to Hangzhou Yokohama Tire Co., Ltd. is related to promoting the energy saving policies of the Chinese government; Hangzhou Yokohama was recognised for low energy consumption per ton of tyres produced.
In 2010, Hangzhou Yokohama became the first of Yokohama's production sites outside of Japan to achieve 'complete zero emissions', and the following year it was the first of Yokohama's overseas companies to introduce solar power generation at its site.
Energy Efficiency Forerunners are selected in 16 fields, including crude oil processing, carbon and tyres, based on data provided by the companies. In the tyre sector, among local tyre manufacturers above a certain size and foreign tyre manufacturers belonging to the China Rubber Industry Association, three companies were selected in each of four categories – radial tyres for passenger cars, radial tires for trucks and buses, cross-ply tyres, and off-road tyres.