Survey reveals varying attitudes to 'hit and run' vehicle damage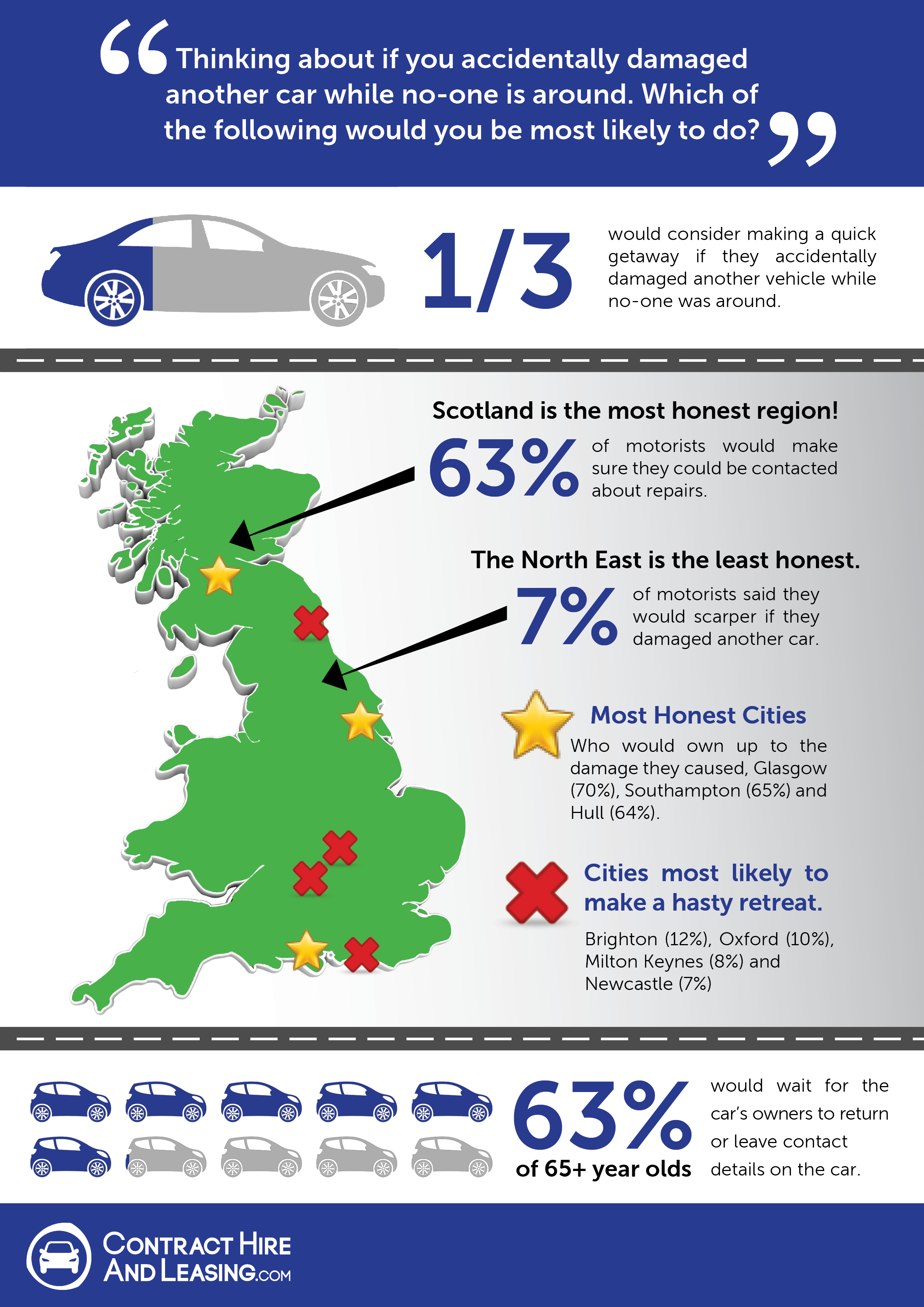 What would you do if you damaged another vehicle but nobody saw you do it? A poll of 2,021 adults in the UK suggests that the chances are little over 50-50 that you'd make sure the vehicle owner received your details.
ContractHireAndLeasing.com appointed Populus to carry out a survey that asked the respondents to disclose their most likely response should they accidentally damage another car while no-one was around. Disappointingly, 34 per cent answered that they'd split the scene; 30 per cent said they'd leave if the damage was only minor and a further four per cent indicated they would make a hasty retreat, even if the damage to the vehicle was extensive. Only 52 per cent of respondents said they'd wait for the owner to return or leave their full contact details on the car. The remaining 14 per cent said they didn't know how they would react.
The research also showed that honesty among drivers varies extensively between age, location and income groups.
By region, Scotland was found to have the most honest motorists, with 63 per cent reporting they would make sure they could be contacted about repairs, while motorists in the North East appear to be the most dishonest. In this region, seven per cent said they would leave the scene of the accident if they seriously damaged another car, compared to just one per cent in Wales. A further 36 per cent in the North East said they would consider fleeing the scene of an accident without passing on their contact details if the damage was only minor, compared to just 22 per cent in Scotland.
However, the UK population also appears to get more honest with age. The poll found that younger motorists are most likely to consider making a getaway from an accidental bump or scrape. In the 25-34 age bracket, seven per cent reported they would fail to stop after extensively damaging another car, compared to just one per cent of the 65+ age group. An impressive 63 per cent of this latter age group said they would wait for the car's owners to return or leave their contact details – the highest level of reported honesty of any group.
Breaking this down further into cities; respondents in and around Glasgow were the most honest, with more than two thirds (70 per cent) reporting that they would own up to the damage caused. Residents in Southampton (65 per cent) and Hull (64 per cent) ranked second and third, which is in stark contrast to just 43 per cent of motorists in Bristol and 46 per cent in Oxford and London. A shocking 12 per cent of motorists around Brighton said they would make a hasty retreat after causing serious damage, closely followed by-motorists in Oxford (10 per cent), Milton Keynes (8 per cent) and Newcastle (7 per cent).
Oddly, the income of the perpetrator of the damage seems to have little influence over whether they behave admirably or not. Those on some of the lowest incomes as well as in one of the higher earning brackets were the most likely to say they would try and escape after seriously damaging a car, polling seven per cent for those in the £7k-14k per annum and the £48k-55k bracket, compared to just three per cent for those in middle-income brackets such as the £21k-28k and £28k-34k income groups. Furthermore, these middle-income brackets were most likely to say they would ensure being contacted at 53 per cent, compared to just 44 per cent of those earning up to £7k per annum, or those earning £48-55k.
"Although we are generally a nation of honest motorists, it is sad to see that nearly one third of motorists would try to avoid paying for repairs if no-one was around to witness their accident," commented David Timmis, managing director at ContractHireAndLeasing.com. "It is easy to scrape or hit another car whilst driving, especially with larger cars having to squeeze into tight car parking spaces, but the regional variances may indicate historical trends in those areas, where bad experiences of vehicle damage mean individuals are less likely to report an accident if they in-turn damage another vehicle. As ever, the older British generation is showing the rest of us the right path by being honest no matter who may, or may not, have seen the accident."