Hankook extends OE supply with latest Mini model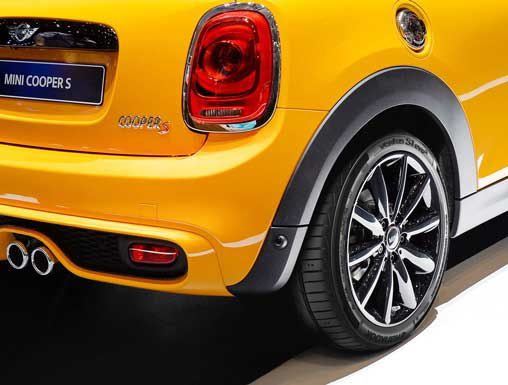 An all-new Mini entered the market this year, and it's longer and wider than the previous model – 107 mm longer and 44 mm wider in hatchback form, to be precise. But not everything has changed; Hankook remains original equipment supplier for the Mini, and is providing four tyre lines for the new-generation car. All original equipment tyres for the Mini are produced at Hankook's factory in Hungary.
The Mini One, One D, Cooper, Cooper D and Cooper S all receive Hankook tyres, a model array that represents a significant expansion of Hankook's Mini supply. Alongside the standard 15-inch tyres for the One and Cooper models and 16-inch tyre for the Cooper S, for the first time ever a 17-inch fitment will be available. Another first is the supply of run-flat versions for certain 16 and 17-inch rim diameter sizes. The tyres supplied in Europe are summer fitments, while in the North American market Hankook also supplies an all-season tread in all three sizes; a standard version for 15-inch rim diameters and a run-flat for 16 and 17-inch sizes.
"We have shown that our summer and all-season tyres ideally highlight the driving characteristics of the Mini without neglecting important safety and environmental parameters like wet grip or rolling resistance," said Engineer Klaus Krause, head of Hankook's European Development Centre. "We are very happy that our tyres have made a positive performance impression with the previous Mini generation and that we are now again fitted as an original equipment to the new Mini edition with an extended tyre portfolio."
In addition to the Ventus Prime2, which has been fitted to the Mini as original equipment since 2011, Hankook is also supplying the Ventus S1 evo2 and the Kinergy Eco, as well as the all-season Optimo H426 for the North American market.
Although originally named for its diminutive proportions, the latest Mini is wider and only slightly shorter than UK market leader the Ford Fiesta. Mini UK says the hatchback version of the 2014 Mini is 3.821 metres long and 1.727 metres wide; the original 1959 Mini, inspired by Sir Alec Issigonis's famous napkin sketch, was 3.054 metres long and 1.397 metres wide. That particular model was fitted with cross-ply Dunlop C41 tyres in size 5.20 x 10.