H1 2014 car sales in Europe up 5.8%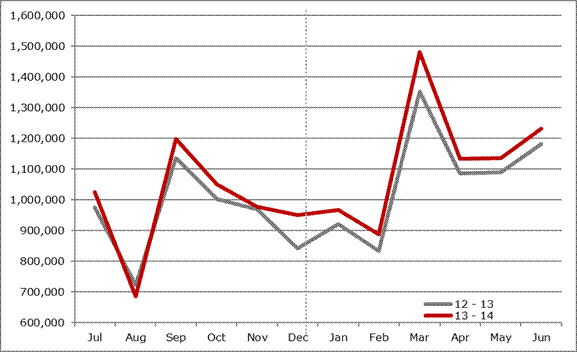 It isn't just European tyre markets that were up in the first half of 2014 – UK-based automotive intelligence supplier JATO Dynamics states that the European new car market grew 5.8 per cent year-on-year in the period from January to June. Sales growth of 4.3 per cent in June means that year-on-year sales increased for the tenth consecutive month. Great Britain recorded the biggest year-to-date increase in units sold – over 120,000 more than the first half of 2013, a 10.6 per cent increase. Overall, 24 of the 30 countries analysed recorded year-to-date increases in volumes compared to the same period last year, including Europe's five largest markets – France, Germany, Great Britain, Italy and Spain.
All of the top ten vehicle brands have increased their sales for the year so far compared with the same period in 2013, and while sales of individual models have been a mixed bag, some have shot through the roof; sales of Renault's Captur, for example, rose 355.8 per cent year-on-year in the first half of 2014 to make the car the seventh best-selling model in Europe.

Fewer available selling days in June contributed to a slight dip in sales volumes in Germany during June (-1.9 per cent), however over the first half of 2014 this market grew by 2.4 per cent. Italy recorded year-to-date growth of 3.4 per cent, and France 2.9 per cent. The Czech Republic (+16.4 per cent), Portugal (+37.7 per cent) and Sweden (+17.7 per cent) are amongst the medium-sized markets recording strong double-digit growth for the first half of 2014. Conversely, sales in the Netherlands continue to slow as a result of tax changes brought in at the start of the year. New car sales were down 5.6 per cent in June and down 5.1 per cent for the year-to-date.
"Overall it has been a very positive first half of the year for the European new car market. Year-to-date growth of 5.8 per cent and ten consecutive months of sales increases are fantastic achievements in the current economic climate," said Gareth Hession, vice-president of Research at JATO Dynamics. "These trends suggest that the industry has every chance of extending this level of performance for the remainder of 2014."