Goodyear's latest airship to be named Wingfoot One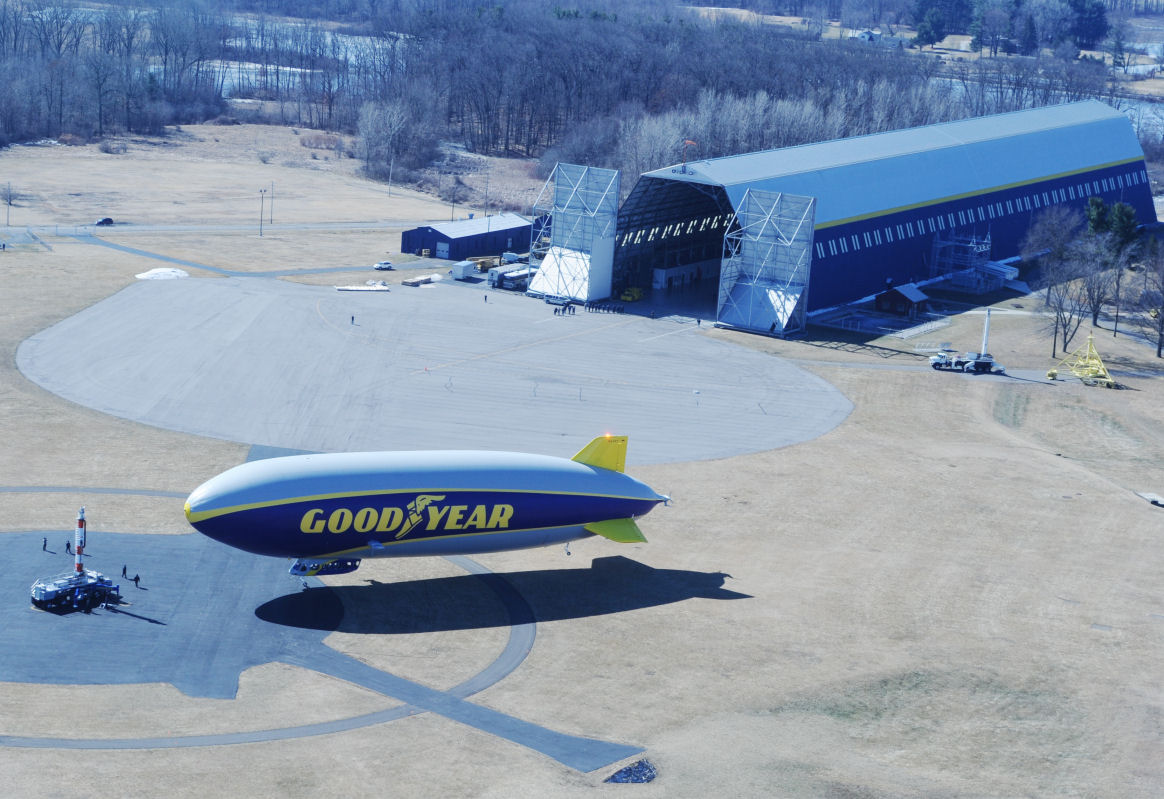 If you haven't paid much attention to Goodyear Tire & Rubber's corporate logo in the past, you may be surprised to find it resembles a basketball shoe that has sprouted wings. Goodyear calls its logo the Wingfoot and it will – in name at least – now take to the skies. On 21 July, Goodyear Tire & Rubber announced that the name Wingfoot One has been selected for its newest airship.
Wingfoot One was chosen from nearly 15,000 names submitted in an online public contest that started four months ago. A panel of Goodyear judges narrowed the submissions to ten finalists before a final round of public voting determined the name of the newest addition to the Goodyear airship fleet. With nearly 35 per cent of the public vote, Wingfoot One was the most popular of the finalists. The name was submitted by Charlotte White, who lives in Goodyear's hometown of Akron Ohio. As a prize, White will spend a day on Wingfoot One. "Seventy six years of living in Akron and I never got to ride on the blimp," said White, whose stepfather was employed by Goodyear. "I'm just thrilled to win the contest. I never thought it could happen. I can't wait to ride it."
Goodyear's use of the Wingfoot trademark dates back to 1901 when the company first used it in advertising to promote the launch of its new Straight Side tyre. Inspired by a statue of the Roman god Mercury in his home, Goodyear co-founder Frank Seiberling conceived of the idea of using the Wingfoot trade mark as a symbol of the company's global ambitions.
"The Wingfoot symbol has played a prominent role in defining the Goodyear brand for more than a century," said Paul Fitzhenry, senior vice-president, global communications. "The name Wingfoot One makes an ideal connection between our trusted, global brand and our iconic airships."
The new airship is in the final stages of flight testing and will be officially 'christened' in a ceremony to be held next month. After the christening, Wingfoot One will travel the United States and take its place as a fixture over the country's biggest sporting, news and entertainment events. Wingfoot One is a semi-rigid, Zeppelin model LZ N07-101, which was assembled at Goodyear's Wingfoot Lake airship hangar.
Goodyear has built more than 300 lighter-than-air vehicles over the years, including two large rigid airships – the U.S.S. Macon and U.S.S. Akron. This is the first semi-rigid airship to be built in the 95-year history of Goodyear's Wingfoot Lake hangar. The new airship model replaces the previous "GZ-20A" model, which flew for 45 years. Since 1925, the Goodyear blimps have appeared at the most watched news, entertainment and sporting events around the world. The blimps also heavily support local and national charities, and community emergency response programmes.