Goodyear signs 3-year contract to provide port handling tyres at London Gateway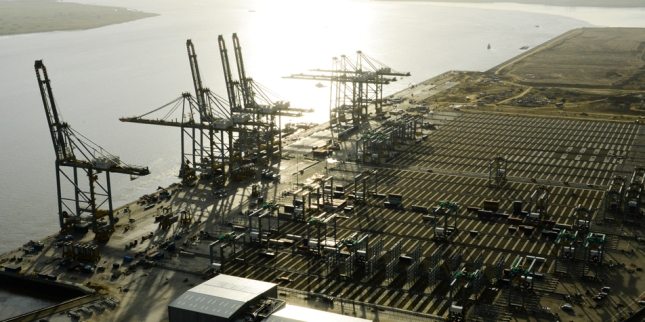 Goodyear off-the-road tyres have been fitted to 28 Kalmar ESH-250 Shuttle Carrier vehicles at London Gateway. The fitment took place under a new three-year contract between Goodyear and DP World London Gateway to provide Goodyear OTR EV-3+, EV-4A and EV-4C industrial radial tyres.
London Gateway is the first port to be built in the UK in a generation and occupies a unique position in the UK's logistics landscape. It has the infrastructure to handle the next generation of 'ultra large container ships' (ULCS), which are up to 400 metres long and can carry more than 18,000 teu (twenty foot equivalent units). It is currently in the first phase of its development and when fully completed will have 2,700 metres of quay, six deep water berths and 24 giant quay cranes.
"OTR tyres are a significant investment and critical to efficient port operations," said Neil Bellinger, workshop and mobile equipment manager at London Gateway. "We selected Goodyear for the London Gateway contract based on proven performance in a number of key criteria. In particular, performance around tread wear and fuel efficiency, heavy load capacity and stability and cost per hour, were all critical KPIs Goodyear had demonstrated it could meet. "The Goodyear OTR tyres performed exceptionally well against all criteria – in particular cost per hour."
The Goodyear OTR team in the UK are supporting London Gateway by performing regular inspections, providing detailed reports on tyre performance, wear rates, cost per hour and projections based working hours. "All commercial tyre policy decisions are business critical, but perhaps none more so than choosing an OTR fitment when the cost of any site operation downtime is so high," commented Graham Hutchison, commercial sales manager for Goodyear Dunlop UK & Ireland. "This contract win has very much been a partnership-led approach from day one. We worked closely to establish clear critical success factors to get to exactly the right fitment choice. The three-year contract is testament to the industry-leading capabilities of our products and the great partnership work between the Goodyear and DP World technical sales teams."