New Pirelli WSB tyres help Sykes set new Misano track record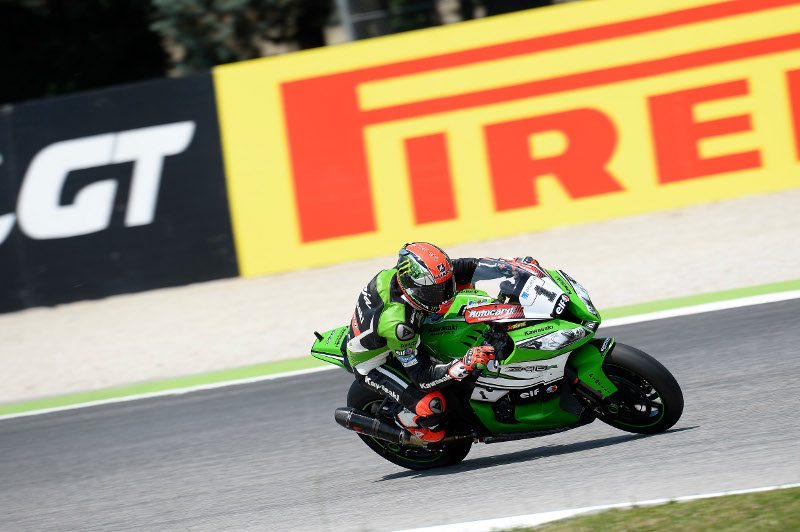 Pirelli introduced its latest World Superbike tyres at Misano, helping Tom Sykes to set a new lap record. The Superpole tyre was developed by Pirelli as a qualifying tyre, and Sykes was able to shave more than a tenth of a second off Troy Corser's 2010 record. He also won both the Superbike races on the new soft blend rear solution with team mate Loris Baz and Italian Marco Melandri crossing the line behind him.
Giorgio Barbier, Pirelli moto racing director, said: "We are truly pleased with the results achieved by Pirelli throughout the weekend. Besides the standard tyres, during the season we are always designing some development solutions in order to keep our racing range up to date year after year…
"Both the Superbike and EVO riders used the rear solutions which had been custom developed for their respective categories and we perceive a very important message from this: if new solutions, never before tested by the riders, were the most popular ones and provided the riders with exemplary performance, it means that our development efforts are working well and above all it means that the riders trust us and are ready to try the new solutions that we provide for them.
"It may seem trite, but this is a relationship of trust that we have been able to build over the years and of which we are particularly proud… We are watching some very heated and open championships where various riders are taking turns on the podium. I think that the great thing about Superbike and the lower classes lies most of all in this fiery and consistent competitiveness between manufacturers and riders."
In the Superbike class at Misano the S1699 development tyre was most popular, chosen by about 2/3 of riders. Preference among the other riders more or less split between the standard SC3 and the new SC2 compound T0020 development solution. On the rear, many of the Superbike riders, especially those in the front rows, opted for the new solution dedicated to them, the T0722, whereas most of the EVO riders chose the R1368, also a custom developed tyre for their class. The remainder of the riders obviously opted for the standard SC0 solution.
In the Supersport category the most used option on the front was the new S1485 development solution, chosen by 15 out of the 25 riders on the starting grid. Of the remaining riders, 6 chose the standard SC1 solution and 4 opted for the standard SC2. For the rear 19 riders went with the standard SC0 whereas the remaining 6 riders chose the standard SC1 solution.