Hybrids a focus for Continental's first A/A rated tyre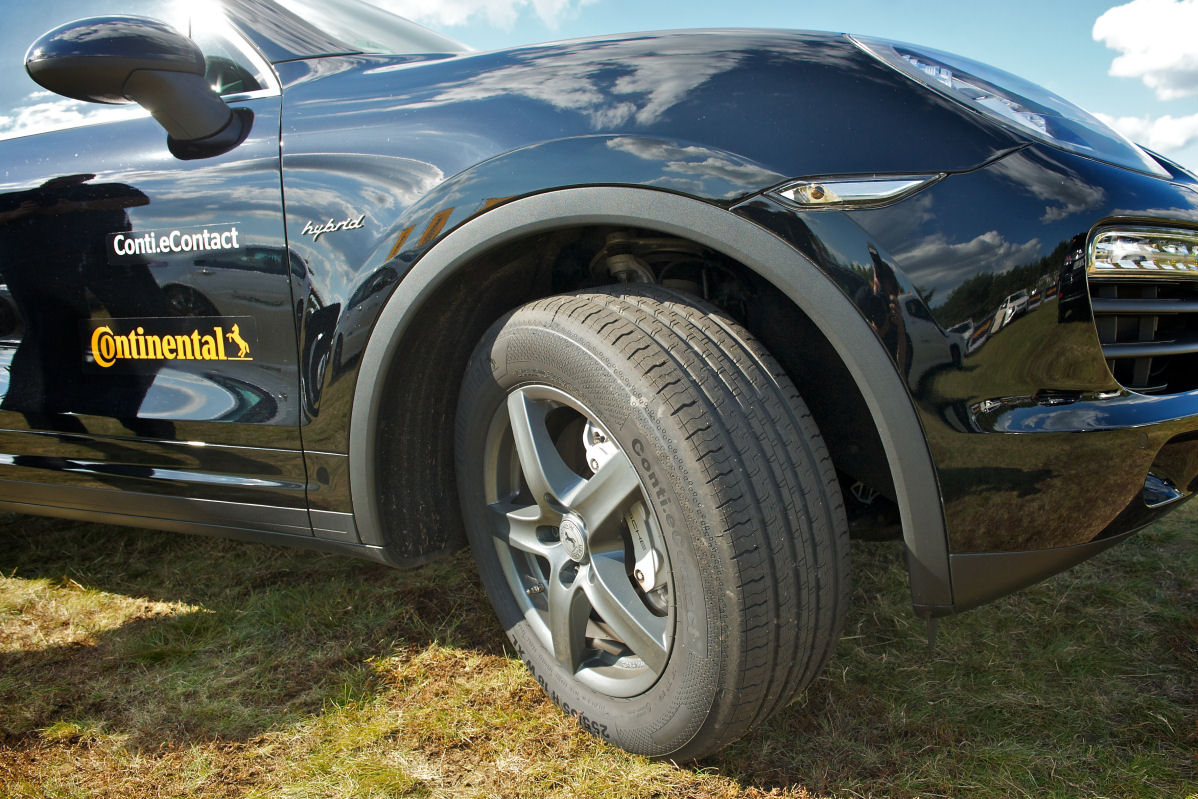 It isn't easy to achieve an A/A rating on the European tyre label, at least not if you appraise tyre performance according to the guidelines, but Continental has managed it with the all-new Conti.eContact. The latest generation of tyre to carry this name is initially available in six sizes for 17 and 18-inch rims as a replacement fitment for the European market. Low volume production has begun at Continental's Sarreguemines tyre plant in France.
While its 2011-released namesake was aimed at both electric and hybrid vehicles, the new Conti.eContact has been specifically designed with hybrids in mind. This change in focus occurred, explains Alexander Bahlmann, in response to anticipated trends in global vehicle uptake: The head of media and public relations for Continental's Tires division shares the findings of the 'Continental Mobility Study' into expected consumer behaviour in the US, China and Germany – the largest markets in three important regions. "If you look at the results, the intention to buy a hybrid vehicle is much higher (than to buy an electric vehicle) in all of these three countries, especially in China. This underlines the relevance of hybrid cars from today's perspective.
"If you look at the split, technology-wise, comparing 2010 with 2015 and 2020, we expect the amount of cars sold around the world to increase to 98 million (by 2020)," continues Bahlmann. "Combustion will of course remain the main type of engine, but it will continuously decrease. And we see that hybrid cars have already overtaken electric cars, and our expectation is that this will continue and hybrids will achieve an eight per cent share by 2020, nearly three times higher than electric cars."
Preparing to meet this growing market has required Continental to nudge the boundaries of its technological know-how, and also to rethink its production processes a little. Dr. Andreas Topp, who is vice-president of material and process development and industrialisation for Continental's Tires division, explains some of the ways Continental has adapted to produce its first A/A rated tyre. "Three years ago when we said it is probably possible to make an A/A tyre as a prototype but not as a serial production tyre, we said it seriously. Since then, we have spent a lot of effort into looking into our production processes and capabilities in order to come up with a stable process which really enables us to deliver this A/A performance on a serial level." Topp then refers to a word he admits people are not accustomed to hearing from Continental: craftsmanship. "When working with robots and automation, craftsmanship is usually something you eliminate from a hi-tech product, such as the Conti.eContact. But we mention the word to make sure you really understand that this is pushing the limits not only in terms of technology, material-wise and construction-wise, but also in terms of producing such a tyre."
For production, Topp says specialised processes were called for in order to manufacture the Conti.eContact with consistent properties. "If you have to reduce the amount of material you put into a product, you need to work on the precision of your production processes in order to realise that in a stable way. For this particular product, we've had to include some manual operations that we typically don't apply in our production facilities in order to make this process really work and to deliver the A/A performance on a stable level, and this is what we mean by craftsmanship." Further details on these manual operations were not given.
Chilis and foam
Topp says the highest technology Continental possesses, the newest materials and "a lot of passion from our engineers" went into the Conti.eContact. But what qualities leant itself to developing a tyre that meets the requirements of today's hybrid vehicles? To answer this question, he describes the compound, tread and sidewall technologies used in the new tyre.
The Conti.eContact features Continental's 'Green Chili' compound. While Topp concedes that the development team at Continental doesn't "talk too much about details, especially in terms of materials technology," the keynote quality of Green Chili is that the silica within the compound is well dispersed. "Bad distribution leads to an increase in friction when the material deforms, leading to an increase in rolling resistance," he explains. "So what you want to have is a perfect dispersion of the silica particles, and this is what we are able to deliver with Green Chili technology. And in addition, using that to further increase the level of silica we are applying leads to an increase in wet grip performance, which we needed to reach the stable 'A' performance."
The qualities of the Green Chili compound are invisible to the naked eye, but the new tyre's tread pattern certainly isn't. Topp describes the Conti.eContact tread as circumferentially oriented, a format often seen in rolling resistance-optimised tyres. "The trick is now, how do you also realise good wet grip and hydroplaning performance with such a pattern? This is where 'hydro sipe' technology comes into the game."
The materials expert says that hydro sipe technology refers to the inclusion of a higher than typical number of sipes in the pattern; these arrangement reduces block surface area provides for a high level of drainage void in the pattern, facilitating the flow of water. Furthermore, twin sipes in the tread blocks generate a 'windshield wiper' effect that breaks up the film of water that would otherwise build up under the contact patch. "You want to get rid of the water film from the top of your surface, and this is where the wiping effect of the sipes really makes a good contribution towards wet braking and wet handling situations."
Along with new technologies adopted for the compound and tread design, the sidewalls of the Conti.eContact have also been redesigned. In this case Continental's tyre designers focused on minimising aerodynamic drag and rolling resistance. "If you have a lot of material in the sidewall, you have a lot of rolling resistance," Topp comments. "Therefore a development target was to reduce the amount of material that went into this flexing zone, and this is what we did. And we did this by going to extremes in terms of reducing thickness." As a result, in the new Conti.eContact less energy is lost when the tyre deflects and rebounds than in a conventional tyre. In addition, turbulence has been reduce, further lowering the tyre's contribution to fuel consumption.
Covering a fourth Conti.eContact feature, Andreas Topp points out that electric and hybrid vehicles are smooth and quiet, and it is therefore important to minimise noises that may disturb vehicle occupants. "Tyres have a very specific feature – a cavity noise that you cannot eliminate as it is dominated by the tyre's geometry. You can hear this noise very clearly if you ride in an electric vehicle. And this is why for this application we've applied the ContiSilent technology." ContiSilent is a thin layer of polyurethane foam attached to the inside of the tyre. It reduces vibrations at specific frequencies, leading to a lower level of noise in the cabin.
Suitable for conventional vehicles
The new Conti.eContact joins a select group of tyres – Alexander Bahlmann points out that when looking at the product portfolio of "four main premium manufacturers," only 0.18 per cent of the tyres on offer are A/A rated.  While it is initially offered solely in the replacement market, Continental expects that original equipment homologations will follow. Bahlmann adds that although hybrids were a specific focus when designing the new tyre, the Conti.eContact can be mounted on all cars. "Its general performance is very good and well balance," he concludes.