Dunlop to introduce new Moto2 tyres early following successful Spanish Tests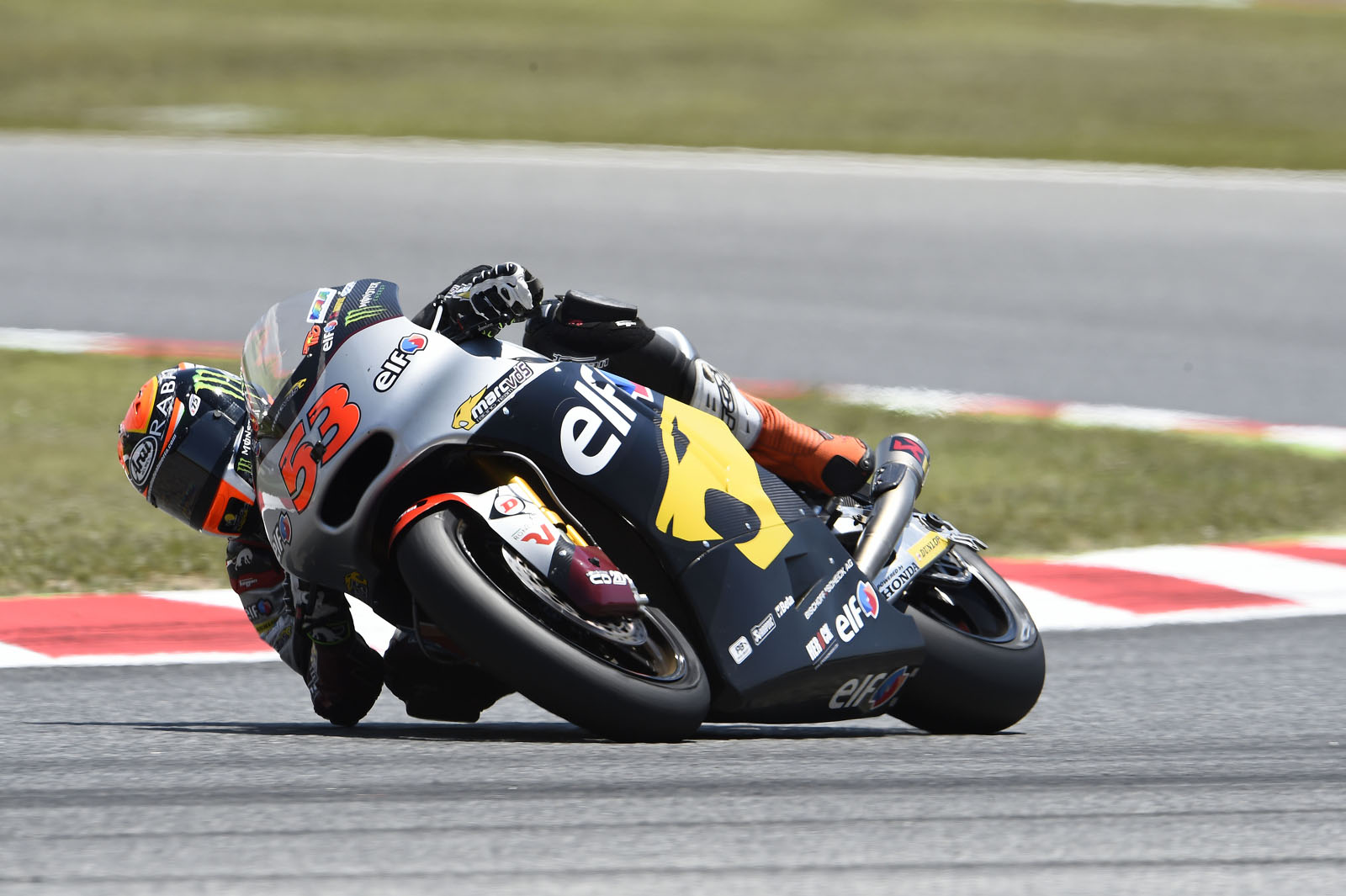 Dunlop has announced its plans to bring forward the introduction of two new front tyres planned for 2015 to the current season. A new front soft compound tyre is now available for circuits that are easier on tyres or colder weather conditions; a replacement front tyre designed to work better in high track temperatures is the other tyre to be introduced early following testing post-race at Cataluña and Mugello earlier in the year. Rear tyres were also tested in Spain, and Dunlop now has a specification undergoing more testing to prove longevity in different conditions.
The FIM Moto2 and Moto3 World Championships hold their next races at the Dutch circuit of Assen (28 June), the penultimate round before the summer break. The event also holds a double-header round of the Red Bull Rookies Cup which is an all-Dunlop championship. The series is currently led by 18 year old Jorge Martin Almoguera from Spain, closely followed by Italy's Manuel Pagliani.
After Cataluña's high forces in the right sides of the tyres, Assen has a closer to average grip level. The 4.542km track is generally flat and flowing with twelve right hand and six left hand corners. Most of the corners have some positive camber so grip level are perceived as good.
Weather has been a significant factor at this track in recent years with all the 2013 practice sessions being wet to drying in cool conditions.
Clinton Howe, operations manager motorcycle grand prix said: "We are very satisfied with our progression of the Dunlop Moto range – so much that we will be introducing new tyres in 2014 instead of waiting for the 2015 season. Work carries on with more specifications but we are pleased to be able to introduce the new front tyres to the range earlier than planned.
"The cool of Assen will be a marked difference to the heat of Catalunya and Italy. Assen offers a reasonable amount of grip but also recently has become a little more abrasive. Due to this we have decided to bring a stronger rear Moto2 allocation compared to last year. The Red Bull Rookies join us here for rounds 4 and 5 of their championship, so Dunlop will be providing service and supply to the 93 riders attending our three championships."