Bespoke Arcom storage system helping tyre manufacturer stay flexible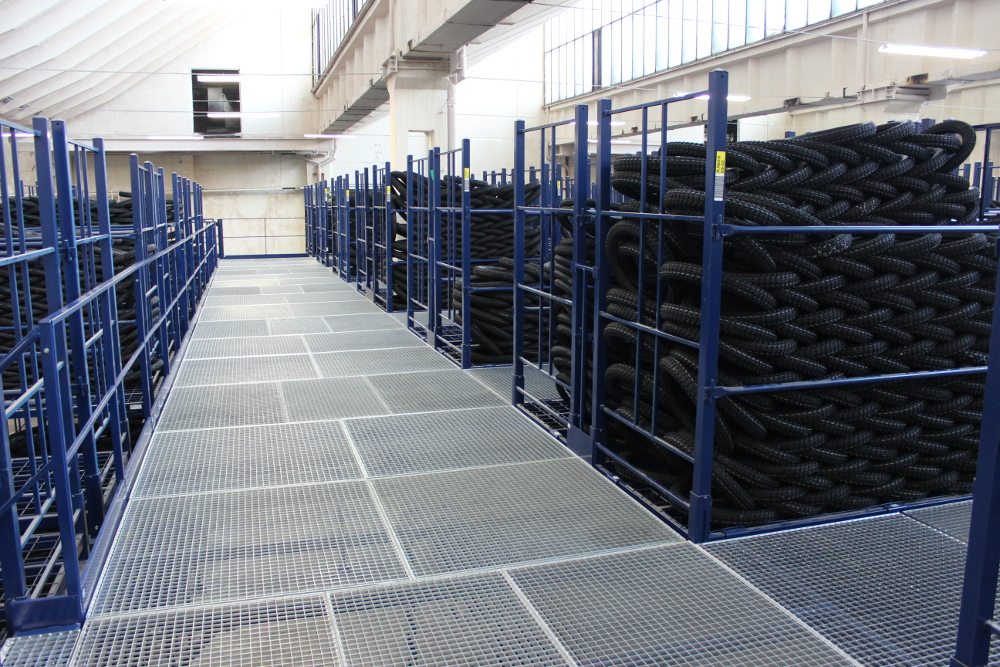 Polish supplier of storage systems for the tyre industry, Arcom has developed and installed a new flexible storage system at German tyre supplier, Heidenau. Arcom says the new project demonstrates the flexibility of its crates and stackable storage containers for tyres, in addition to its adaptability to the individual needs of each client.
Heidenau, which produces two-wheel and vintage tyres, required a storage system comprised of cages that can be used in multiple ways. Arcom designed a cage system for stacking tyres in rows connected by platforms. To facilitate access to the upper floor Arcom developed a system of platforms and stairs. The whole plant is naturally protected by railings, with the platforms and ladders galvanised to ensure durability. The storage system has been certified by TÜV Rheinland.
"The versatility of this system allows redistribute and reorganise the stores quickly and easily whenever required," explains Arcom sales manager (English speaking countries), Monika Węgrzyn-Przybyło. "Thus, it is possible to reduce storage areas or expand new items based on the needs of the company, which ensures that the space can be used optimally and flexibly. It is also important to remember that the platforms can be used with Goodyear-type cages available on the European market."
Arcom units are produced in its factory in Rzezawa, near Krakow, Poland. More than 95 per cent of its production is exported to nearly 40 countries on five continents. Working to ISO9001-2000 standards and with TÜV testing and monitoring from the Welding Institute, Arcom's plant uses high-technology machinery, including CNC machines and robotic welding stations.
"With our system standardised modules, Arcom can offer each customer the best solutions for your business, a project and implement it quickly. In addition, our modular solutions are adjusted to manufacturers, distributors and major retailers," added Węgrzyn-Przybyło.