Stamford to show Sumo Firenza tyres, SSW and Soleil wheels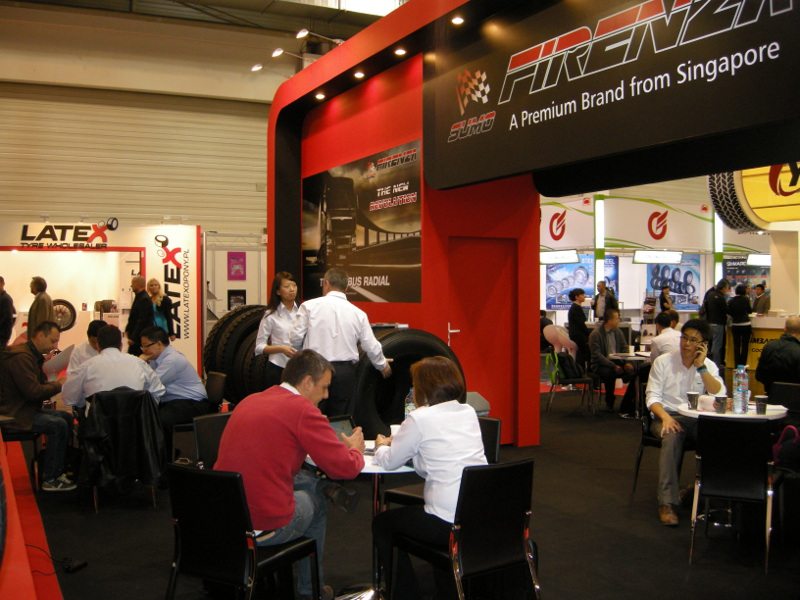 Singapore's Stamford Tyres will exhibit its range of Sumo Firenza tyres and alloy wheels from Stamford Sport Wheels and Soleil from Hall 6, Stand 6F20. The company says it is particularly interested in visitors representing European, African, and Central and Latin American companies, as it continues to grow its global reach.
The Firenza brand has been established in Europe across the PCR, high performance, winter, 4×4/SUV, van & light truck and truck market sectors, with an extensive selection available to view at Reifen 2014. The Firenza high performance range offers two distinctive sports patterns – the ST-05A and ST-09. The former includes tread rib rigidity for impressive directional stability and optimal braking performance, while four wide and straight grooves and shoulder slots and sipes improve superior grip in wet conditions. The tyres' silica compound is designed to increase fuel efficiency and improved wet handling. The ST-09 provides enhanced wet traction and reduced rolling resistance, with four wide grooves accelerating water drainage. Wide shoulder slots optimise grip and further enhance tyre cooling, and triple pitched blocks reduce noise levels.
The Firenza ST-07 has a more eco-orientated tread design, while wide grooves with lateral slots and sipes improve wet traction. It also includes curved sipes to reduce noise and extend tread wear, while a rigid centre rib giving safer and more responsive handling.
For the winter market Firenza offers two patterns: the NU Ice NTS-01 and XT-01. The NTS-01 includes angled grooves for secure grip in winter conditions, a soft compound for increased traction on snow and ice, solid blocks with zigzag sipes to enhance dry road performance and elevated lateral grooves to increase tread rigidity. The XT-01 studdable pattern offers sharply angled centre grooves for the ultimate winter grip.
In the growing 4×4/SUV market the Firenza AT-186 pattern includes a combination of fine sipes and large drainage slots for superior off-road handling, while its centre blocks and shoulder lugs are designed to reduce noise levels and increase comfort. The Firenza HT-183 includes four straight grooves and a shoulder designed for high speed cornering. The MT-353 incorporates a large centre block for stable handling, mini block grooves to provide enhance wet surface driving, and a tread designed to repel stones, mud and other potential damaging elements. Finally in the segment, the ST-185 offers deep sipes for steady grip on dry and wet roads, and a jointless nylon band for improved high speed performance and stability.
For commercial vehicles, Firenza provides eight patterns to suit all applications. The Flagship SSR05A has been manufactured for both steer and trailer application and incorporates a wider tread with flat profile for improve mileage return and stable handling. The SSD08 Drive pattern includes an harder tread compound for long mileage and a solid shoulder construction with zero angle steel band ply to protect irregular shoulder wear. The SSM10 Drive pattern offers a tread designed for traction in both wet and dry conditions and self-cleaning protection from mud and gravel. The SSM07 and SSM07A patterns are designed for all-position use and offer a new tread compound to reduce heat build-up and cuts, increasing durability. The SSR055A and SSR55A+ patterns are super single trailer tyres with a solid shoulder construction to eliminate shoulder wear and tough tread rubber for long mileage return. Finally the SST066 is another super single trailer tyre which has been specifically designed for longer mileage return and includes a square shoulder profile for maximum contact and impressive traction.
In the van & light truck sector the Firenza SV-053 incorporates a specially formulated tread compound for high mileage performance.
Stamford Sport Wheels (SSW) will also have a strong presence on the stand where an extensive display of high quality aluminium wheels manufactured in Thailand at SSW's twin modern factories will be available for inspection. The SSW wheel range covers sizes from 13 up to 24 inches for the car, SUV, MPV and light truck market sectors in a wide variety of designs and finishes. Also available will be a selection from the Soleil luxury wheel range which provides staggered fitments from 20 to 22 inches.
Stamford will be represented by a team of experienced sales personnel throughout the show to answer any queries concerning their complete product portfolio.