Q1 operating profit a 'record', says Yokohama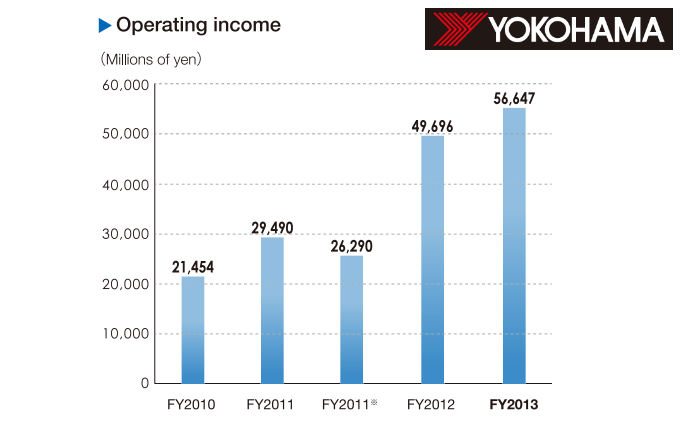 Yokohama Rubber reports that its operating income reached a record high in the first quarter of 2014. On the back of net income of net sales that were up 9.6 per cent year-on-year to 139.9 billion yen (£810.9 million), operating income jumped 54.6 to 11.7 billion yen (£67.8 million). Net income, at 6.5 billion yen (£37.7 million), was 14.8 per cent higher than in the first quarter of 2013. Sales and earnings increased in each of Yokohama's three business sectors: tyres, industrial products, and other products. The company says its tyre business' strong performance reflected robust growth in Japan and sales growth overseas. Operating income benefited in each business sector from a downward trend in raw material prices and from the weakening of the yen, as well as from sales growth.
In Yokohama's tyre operations, operating income increased 62.9 per cent to 9.3 billion yen (£53.9 million) on a 9.4 per cent increase in sales, to 109.5 billion yen (£634.7 million). The company's sales of original equipment tyres grew strongly in Japan, an increase that reflected an upturn in vehicle demand in advance of the 1 April hike in the nation's national sales tax. Yokohama also posted strong sales growth in replacement tyres in Japan due to studdless winter tyre sales that were bolstered by heavy snowfalls and summer tyre sales that were stimulated by the April increase in sales tax. Yokohama's business expanded overall in overseas markets as sales recoveries in North America and in China more than offset weakness in Russia and in some other markets.
The Japanese manufacturer projects that net income in the six months to 30 June 2014 will increase 4.0 per cent over the same period of the previous year, to 13.5 billion yen (£78.3 million) on a 31.2 per cent increase in operating income, to 25.0 billion yen (£144.9 million), and a 10.5 per cent increase in net sales, to 298.0 billion yen (£1.7 billion). Yokohama states its adherence to the full-year projections for sales and earnings announced in February; those projections call for net income to increase 7.1 per cent to 37.5 billion yen (£217.4 million), on an 11.2 per cent increase in operating income, to 63.0 billion yen (£365.2 million), and a 7.5 per cent increase in net sales, to 647.0 billion yen (£3.8 billion).