Bridgestone supports White Helmets with Extance training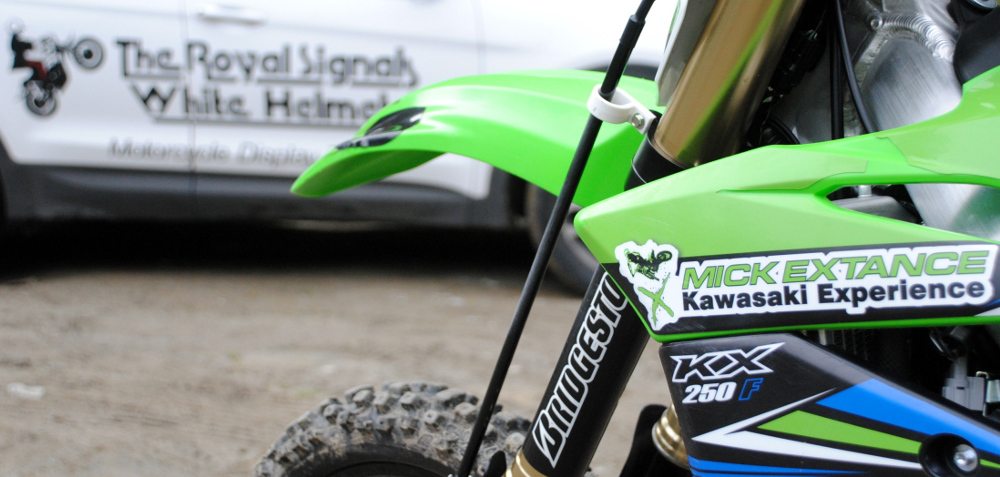 Members of the historic motorcycle skill display team, White Helmets are to train with Enduro and Dakar legend Mick Extance, courtesy of Bridgestone. The tyre manufacturer is backing The Royal Signals Motorcycle Display Team with equipment and tyres for 2014, and has put the group in touch with the seven times Dakar Rally competitor's off-road school in Powys, in an attempt to improve each soldier's riding ability.
Mick's Kawasaki KXF250s are shod in Bridgestone Battlecross X30 tyres and when product manager Gary Hartshorne spoke with Sergeant Stevie Marshall of the White Helmets, it was suggested that new recruits spend some time in Wales to learn some important skills.
Hartshorne, who has pooled both Bridgestone sponsored assets together for the first time, said: "Having seen what a phenomenal set-up Mick boasts, we thought The White Helmets would benefit from spending some time at the school.
"Many of the team have never been on a bike before their training begins, so we thought that the motocross experience would put them on the right track for the future, literally."
Sgt Stevie Marshall, whose colleagues have just returned from their first session with Mick, said: "It was an invaluable experience and a great idea from Bridgestone to put us in touch.
"Some of the skills needed to ride a motocross bike are quite unlike anything some of the lads were familiar with, but by the end of the day, you could see how much benefit we had all gained from learning them.
"It is a very steep learning curve to graduate from a bike novice to an integral part of the team, but days out like this make a huge difference."
Following the White Helmet's unlikely visit to Wales, Bridgestone has also agreed to kit out their Triumph TR7V Tiger bikes on X30s, to allow them to perform on some of the more challenging terrains that often present themselves during exhibitions, when smooth tarmac isn't always available. Bridgestone has also put its name to the White Helmets' 'Riders' Rider' annual award, which was presented to L/Cpl Oliver Blount at the Royal Signals' Opening Show last month.
The White Helmets, who perform public displays of motorcycling skills, acrobatics and stunt riding, is based at the home of the Royal Signals at Blandford Camp in Dorset and Sergeant Stevie Marshall said that Bridgestone's support continued to be invaluable.
He said: "Bridgestone's tyre partnership is essential in the running of the team. Without it, we probably wouldn't be able to repair our bikes as all of our money would be swallowed up in buying new tyres.
"The injection of cash from Bridgestone really is invaluable, as our maintenance costs are going up and the bikes are getting older."
The White Helmets formed in 1927 and regularly perform to 600,000 to 1,000,000 people over the course of a display season, not including TV audiences. They are booked up at shows and festivals every weekend from now until 5 October.