Yokohama returns as BRDC F4 control tyre supplier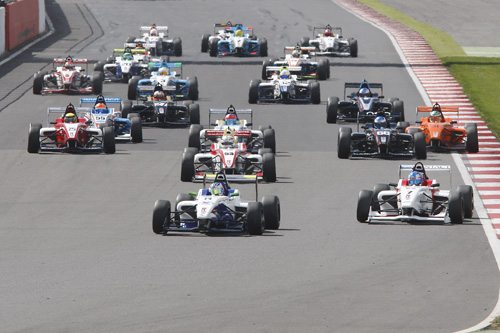 New and returning drivers in what is described as being one of the world's most cost-effective single seat motorsport categories are heading to Silverstone this weekend for the opening rounds of the 2014 BRDC Formula 4 Championship. As was the case during last year's inaugural season, the control tyre for 2014 will be provided by Yokohama.
The first year of competition was deemed a resounding success, with 24-strong grids of identical cars lining up at every meeting. Not only did each race weekend feature three races, each also saw superstars from motorsport, such as Mark Webber and Jenson Button on hand to present trophies as well as offer advice and support to the field. This year's opening round on Silverstone's GP circuit sees no less than 12 nationalities on the grid.
Eight drivers are from the UK, including Struan Moore and Sennan Fielding, who return for a second season. Winter Series race winner Will Palmer also drives while up-and-coming driver George Russell, who claimed 13 karting titles in five years, will make his F4 debut this weekend. There will also be drivers from South Africa, Mexico, Venezuela, India, America, Denmark, Holland and Brazil. Former Formula One driver Rubens Barrichello will serve as advisor to Brazilian driver Gaetano di Mauro, providing valuable guidance throughout the season. All will battle for the ultimate prize, of a test in a GP3 car at the Abu Dhabi circuit with Arden Motorsport.
Just like last year, the cars competing in 2014 will be identical, with individual drivers able to make slight set-up changes to get the most from their machine. All will again use Yokohama Advan A005 dry slick and A006 wet tyres, with support from motorsport distributor Adams & Page and from Yokohama tyre technicians.
"After the success of last year's Formula 4 Championship, I am not surprised by the size of the field, as well as the international interests of the series this year," commented Mark Evans, head of motorsport at UK distributor Yokohama HPT Ltd. "Last year proved the concept beyond doubt and I think the entry list for the first round shows just how valuable a series this is. With 12 countries represented and drivers who are supported by people such as Rubens Barrichello, this is clearly one of the foremost single seater categories for drivers looking to move up the motorsport ladder.
"We will be supplying the same Yokohama Advan A005 and A006 tyres that the series used last year," Evans added. "This was the request from the organisers, based on their performance and consistency and I am delighted to be partnering the series again this year."
The race weekend begins on Saturday 26 April with qualifying followed by the first race. Two races will then be held on Sunday 27 April.