HGV charges 'level playing field', says DfT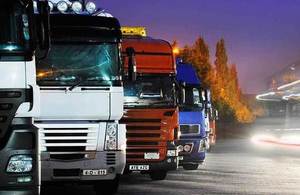 As of today, HGVs of 12 tonnes and more will pay a charge to use UK roads. The introduction of the new HGV levy has been introduced a year ahead of schedule and is paired with a reduction in Vehicle Excise Duty. The Department for Transport says the VED reduction means that nine out of ten UK registered HGVs will pay no more under the new system than they did before 1 April 2014. Transport Secretary Patrick McLoughlin describes the implementation of a user-pays system that also covers foreign hauliers, who previously were not charged for road use in Britain, as a step that will "provide a massive boost for the UK haulage industry."
In an official statement, the DfT endorses the HGV levy's introduction as a measure that removes the disadvantage UK truck drivers have experienced – numerous European countries charge tolls and levies for heavy vehicles, including those from the UK, while foreign trucks operating here have not been required to make a similar payment. The DfT adds that the introduction of such a levy has long been called for by the UK haulage industry.
"The HGV levy will provide a massive boost for the UK haulage industry. It will create a level playing field across Europe, giving UK firms a much better opportunity to win business," said Patrick McLoughlin. "This is yet another example of how we are taking positive action to back British business and build a stronger, more competitive economy."
The levy affects all HGVs of 12 tonnes or more that drive on UK roads, irrespective of country of registration. The levy is structured in a series of bands which reflect vehicle type, weight and number of axles. UK operators will pay the levy at the same time as VED in one transaction, while foreign operators must pay the levy before using UK roads. Discounts are available for longer periods with charges varying between £1.70 and £10 per day or £85 to £1,000 per year.
Each year the levy is expected to bring in circa £20 million in taxation revenue from the estimated 260,000 UK registered HGVs weighing more than 12 tonnes and the approximately 130,000 foreign HGVs that enter the UK. Failure to pay the levy is a criminal offence, attracting a £300 fixed penalty notice – or in the case of foreign HGVs, a deposit taken at the roadside. The HGV road user levy scheme will be primarily enforced by the Vehicle Operator Services Agency (VOSA) in England, Scotland and Wales, with the Driver and Vehicle Agency (DVA) enforcing the scheme in Northern Ireland. The Police also have enforcement powers.