2014 China International Tyres and Wheels Fair | 09/04/2014 – 11/04/2014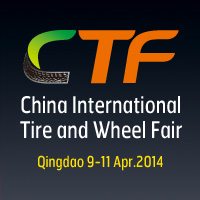 The China International Tires and Wheels Fair, held from 9-11 April 2014 at the Qingdao International Convention Center, focuses completely on the development of the rubber and tyre industries in China. Established in 2004 exhibits include rubber processing equipment, finished tyre products and tyre related products such as tyre accessories and wheels.
Qingdao – trade centre of the tyre and rubber industry
52 per cent of the output, and half of all tyre exports of the rubber industry in China is contributed by Shandong Province and the coastal tourist resort city of Qingdao plays a leading role. Currently, there are around 300 tyre manufacturers in Shandong province, and half of the top ten brands in China are based here.
Highlights
Focused international exhibition on tyre and rubber industry
More than 300 exhibitors and 1,000 booths expected
More than 18,000 Business Visitors expected
Buyer–seller matching meets
2014 Asian "Green Tyre" Forum
2014 China Wheels Industries Forum
Find out more at the website: www.rubbere.com