Speedline Truck supplying Mercedes-Benz Arocs truck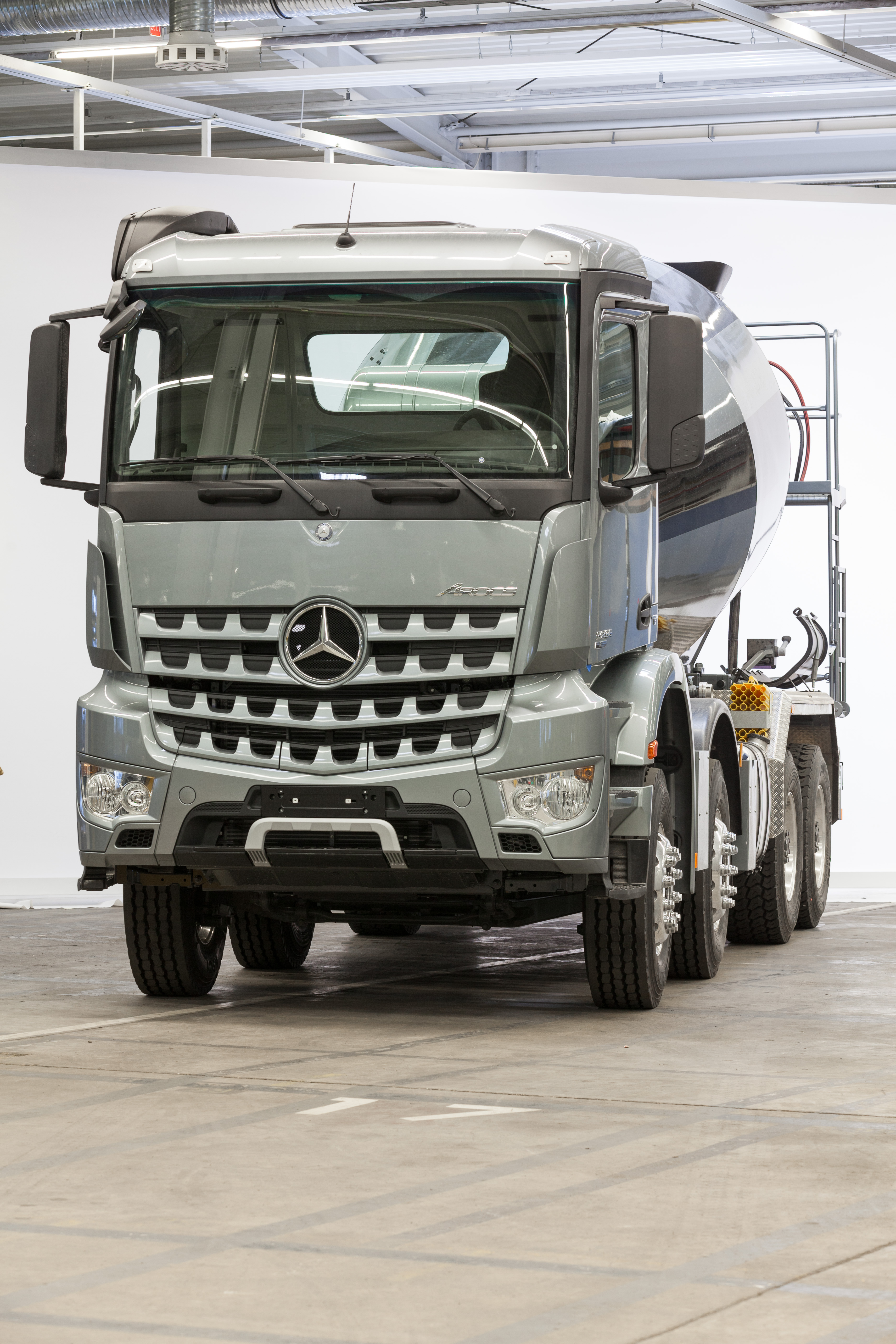 Speedline Truck has reported a further advance in its OE sales drive alongside developments in its aftermarket marketing strategy.
In mid-March Speedline truck announced that it has been chosen by its ongoing industrial partner Daimler as exclusive partner for equipping the weight-optimised Arocs Loader cement mixer with its lightweight forged wheels.
According to the company, the use of specially forged Speedline Truck wheels on the front (22.5×9,00-inch, SLT 2897) and rear (22.5×11.75-inch, ET 0, SLT 2889) axles and an innovative chassis concept with single wheel rear axle assembly results in a weight reduction of up to 100 kilograms compared to a usual aluminium wheel cement mixer configuration and up to 280 killograms on a standard cement mixer steel wheel concept.
Using the broadly popular ETO wheels, this particular wheel variety can reportedly also be further standardized and service sector maintenance costs even further optimised. As well as opting for the addition of Speedline Truck wheels another innovative step taken by Daimler was the addition of increased load volume – now up to 8 cubic metres of cement can be loaded, considerably upping transport efficiency and revenue.
Speedline Truck wheels fitted as OE have been approved by truck manufacturers and are also TÜV and ABE registered for the German aftermarket. Speedline Truck is therefore seeking to position itself as the leading industry partner for forged aluminium wheels, guaranteeing high quality products and "the best quality/price ratio".
Aftermarket developments
Roughly a month ago Speedline Truck launched a new aftermarket-orientated wheel intended for trailers and trucks. The SLT 3087 comes in size 19.5×7.50-inch and is aimed at the medium-heavy sector.
Compared to similar steel wheels, this product offers a weight reduction of some 11 kilograms per wheel, weighing in at 17.7 kilos each. However, when you spread this across standard fitments the benefits become even clearer. For example, a saving of 66 kilograms can be made in the case of a semi-trailer intended to run on three axles with twin mountings.
Furthermore, compared to steel wheels, the Speedline Truck 3087 SLT wheel allows for an additional payload of 250 kilograms per wheel when singly mounted.
In this way the SLT 3087 lends further support to increase efficiency of transport and revenue for fleets and end consumers thanks to the increased loadbearing capacity.
The new Speedline Truck wheel is available in the diamond surface. This product is said to feature additional corrosion protection and reduced torque for lesser loads. Once again the wheel is TÜV tested and comes with the German aftermarket approval ABE. It is available in an eight hole design with 26 and 32 mm bolt hole diametres.
Both these two product releases followed on from the debut of the SLT 3099 at the end of 2013. At the time of its launch, this product was the only wheel on the market with ABE approval for the German aftermarket in the 22.5 x11. 75-inch format with ET0. This and other solutions, such as the ET120 and ET135 wheel in the 22.5×11.75 format with payload of 5,000 kilos.
The product debut was made at the Solutrans event. According to the company OE wheels for trucks, trailer manufacturers and distributors are available through the company's Ronal France SAS subsidiary, as well as via selected partners in the aftermarket.
Back then Speedline Truck was able to claim that it was the only manufacturer of light metal wheels that could boast such a complete range of products with this payload in this format.