Redefining 'tyre wear' – new Goodyear clothing range launched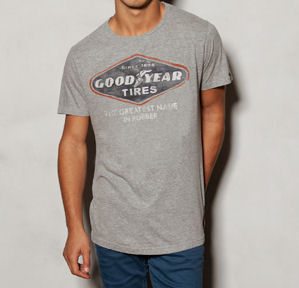 A brand new range of 'vintage' t-shirts and sweatshirts with Goodyear branding has gone on sale at Pull&Bear retail outlets worldwide and online, as part of the Goodyear Vintage fashion programme. As part of a deal brokered between IMG Licensing and the Goodyear Company, the clothing will be sold at Pull&Bear stores in 62 countries around the world and on their e-commerce website alongside the existing local Goodyear range of clothing.
Goodyear Vintage fashion programme has developed a range of leisurewear including vintage jeans, jackets, shirts and footwear. While it focused its licensing programme on the automotive industry until recently, the Goodyear Tire & Rubber Company sees the release of this latest range as being "part of an impressive and fast-paced transformation into a global lifestyle brand." Other areas where Goodyear now has a presence include casual and outdoor apparel collections, sunglasses, luggage, back to school bags and sporting goods.
"Goodyear is extremely excited that the Vintage t-shirts and sweatshirts will be on sale through such a popular fashion retailer," said Nancy Ray, director of licensed products. "We are committed to broadening the universal appeal of the Goodyear brand, and to be reaching the Pull&Bear target market of young adults is therefore very important to us, especially on such a global scale."
Fabrice Faurie, vice-president, IMG Licensing, said: "We are very pleased that Pull&Bear are selling the latest Goodyear licensed clothing. This is an exciting development in the ongoing development of Goodyear into a globally recognisable lifestyle brand of choice. We are confident that the new t-shirts and sweatshirts will connect consumers with the rich history of Goodyear, which for more than 100 years has been associated with performance, innovation and reliability."
IMG Licensing has been working with Goodyear since 2009, and renewed and extended its representation of the brand in a long-term deal last year. There are currently more than 40 Goodyear licensees across Europe, Asia and Latin America.