NTDA says Au Revoir to Richard Edy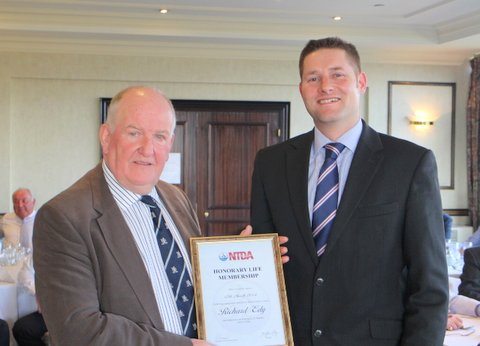 To mark the retirement of Richard Edy, after 27 years' service as director of the NTDA, the association held a farewell lunch in his honour at the National Motorcycle Museum, Solihull.
Just over 30 people attended the event, including a number of Past Presidents and Honorary Life Members of the Association. Today's membership was very much in evidence too, with every region of the NTDA being represented, as well as the officers of the association.
Outgoing NTDA chairman Stephen Callow paid tribute to Richard's achievements during his time as director and presented him with a set of Japanese kitchen knives on behalf of the association. In addition, John Tarbox said that the members had asked if they could mark Edy's departure in some way and he handed over a cheque on their behalf.
Thanking the guests, Richard Edy reminisced about some of the high – and low – points during his time as director. However, his retirement does not mean that all links with the association have been severed, as he was also presented with Honorary Life Membership of the Association, so it is more a case of 'au revoir' than 'farewell'.
It was a day of double celebration, as, at the Executive Council Meeting held prior to the lunch, NTDA director Stefan Hay presented Lynne Smith with a bouquet of flowers and a bracelet to mark her 25 years' service as PA to the association director.