BYD's Qin is China's best-selling electric car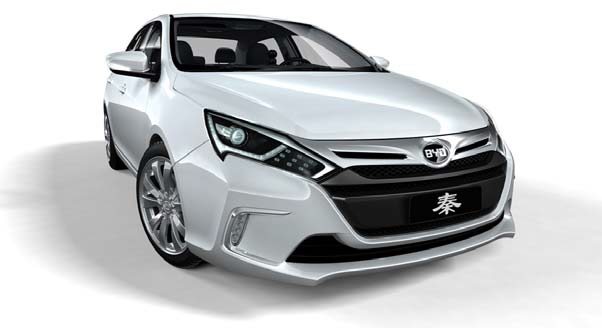 BYD's second-generation dual-mode, plug-in high performance hybrid electric saloon car, the Qin, has set a second record month of sales in February. Trends in March now make it 'China's Best-Selling Electric Vehicle' according to China's National Passenger Car Association. The Qin, in renamed form, is expected to spearhead BYD sales in the European consumer market in the coming years.
After its much anticipated launch in China last December, the BYD Qin has been selling in record numbers, so much so that BYD has had trouble meeting demand. In the first weeks of 2014, more than 6,000 vehicles were sold, accounting for over half of the Chinese new-energy vehicle market.
Analysts are not expecting sales to slow down any time soon as both Shanghai and Beijing announced earlier this month that they will now permit BYD new energy vehicles to qualify for local municipality green-vehicle incentives and be licensed in those cities. These signals, along with the Chinese government's new fund committed for clean-air and fuel-efficient technologies in the form of consumer and government purchasing incentives, are launching a new era in the China domestic automobile industry.
BYD Auto Europe Managing Director Isbrand Ho said: "The news that Qin is a top selling vehicle should come as no surprise as there is simply no other vehicle this fast, efficient, stylish and affordable on the market, anywhere".
The Qin consumes only 1.6 litres of fuel for every one-hundred kilometres (62 miles) and accelerates 0-100 km/h (60 mph) in 5.9 seconds. This is only the first of many of BYD super-electric vehicles launching as the electric version of the S7-styled SUV, internally named the Tang. is set to be released later this year. The Qin is currently available in domestic Chinese and Latin American markets.