Bangkok International Tire Expo | 12/03/2014 – 15/03/2014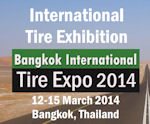 The next Bangkok International Tire Expo will be held from 12 to 15 March 2014. Show organisers write that an "interesting conference programme" will be offered in addition to the classic fair trade fair. Tire Tech Industry 2014 sessions will be held between 11 and 12 March. Rubber Recycling 2014 follows on 14 March.
Rubber Technology Expo 2014 will run in parallel to the tyre trade fair in Bangkok. The tyre trade fair and the parallel events will all take place here in the Bangkok International Trade & Exhibition Centre (BITEC) in Thailand's capital.