Goodyear EfficientGrip SUV tyre aims to offer grip and low rolling resistance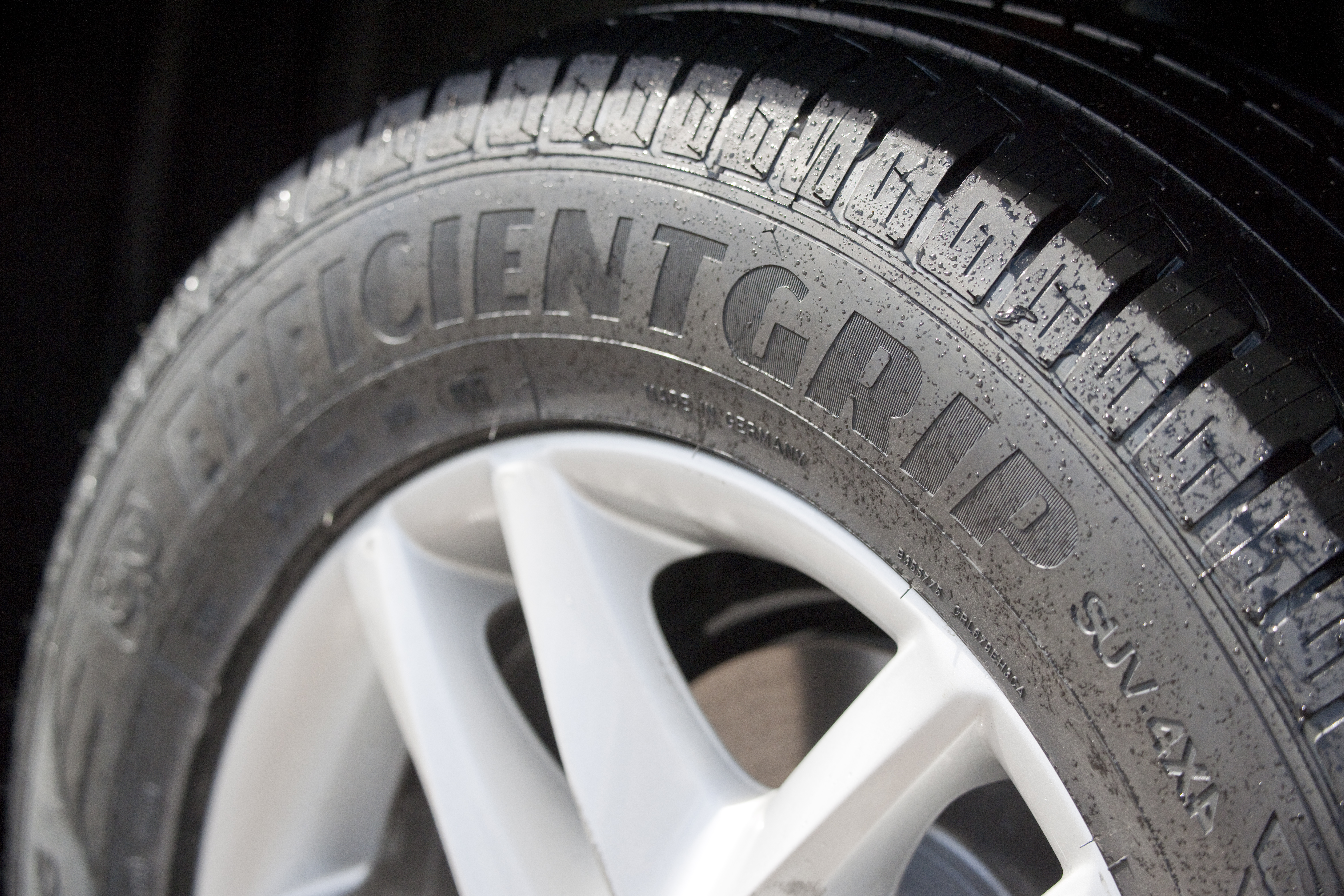 Targeted at vehicles such as the Audi Q3 or the Land Rover Evoque, the EfficientGrip SUV tyre is designed to be something of jack of all trades. As Goodyear points out, while a performance road tyre only really has to concentrate on the task of gripping the road and off-road tyres with the job of generating as much traction in mud as possible, a modern SUV is a jack of all trades and needs a tyre that's equally broad in its talents. Therefore it needs to offer decent off-road ability yet ride quietly on road. It needs to offer excellent wet and dry braking grip as well as low rolling resistance for better economy.
Xavier Fraipont, Goodyear's director, Technology Consumer Tyres explained that, although designed chiefly as a road tyre, the EfficientGrip SUV is also designed for light off-road duties. "It's not as aggressive in its tread design as an off-road tyre like the Wrangler Duratrac, but it retains a high number of biting edges in the tread design. We are homologating the tyre for use as original equipment on the Land Rover Evoque and Land Rover are serious about the off-road performance of all models".
10 per cent better rolling resistance
"Compared to its predecessor, the Wrangler HP All-Weather, a tyre that was supplied as original equipment on cars like the Land Rover Discovery, Nissan Pathfinder and Volkswagen Amarok, the EfficientGrip SUV offers 10 per cent lower rolling resistance. This translates to a fuel economy benefit of around 2 per cent", Fraipont continued.
Goodyear also points out that it offers decent winter driving ability too. However by the same token no one is trying to say it is up to the standard of a proper winter tyre. It doesn't for example bear the three-peak snowflake symbol.
So how does the new tyre square the circle between better grip and improved rolling resistance?|"It's true that the tread compound is the biggest contributor to low rolling resistance, but instead of compromising that, we look at the non- tread elements and work at optimising these so as not to dissipate energy. This means minimising internal stress in the sidewalls, the carcass and the crown of the tyre. We can make significant gains here without affecting grip levels", Fraipont explained.
In order to achieve the aforementioned gains, Goodyear has used a later generation polymer with a high proportion of traction resins and a test conducted by TÜV demonstrated that against three leading competitors, the EfficientGrip SUV offered a 5 per cent shorter dry braking performance and a 6 per cent shorter wet braking distance.
"Off road performance means a specific requirement for the tread pattern" Fraipont observed, adding: "This has repercussions for noise, for rolling resistance and for mileage." Tests have shown that the EfficientGrip SUV betters its predecessor, the Wrangler HP all-weather, in each of these criteria.
The Efficient Grip SUV is manufactured in 15 sizes, ranging from the 215/55 R16 that's fitted to the Audi Q3 to the 235/55 R19 rubber that can be fitted to the Land Rover Evoque. At the top of the chart, there's a 255/50 R19 size but this marks the upper limit for a tyre of this type.
GDYR_5191m.jpg